Sergei Millian, the head of a Russian-American business group, claimed he helped Trump "study the Moscow market."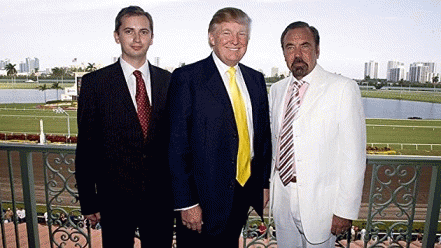 Sergei Millian (l), Donald Trump and Jorge Perez in a photograph posted on Facebook by Mr Millian in 2014
(
Image
by
Financial Times
)
Details
DMCA
Last week, the Senate Intelligence Committee announced it was commencing an investigation of Russian hacking during the 2016 campaign that would include an examination of connections between Russia and the Trump camp. And a veiled but public exchange between Sen. Ron Wyden (D-Ore.), a member of the committee, and FBI Director James Comey during a hearing on January 10 suggested the FBI has collected information on possible ties between Trump associates and Russians and may still be probing this matter. So with subpoena-wielding investigators on this beat, here's a suggestion: The gumshoes ought to talk to an American from Belarus named Sergei Millian, who has boasted of close ties to Trump and who has worked with an outfit the FBI suspected of being a Russian intelligence front. If they haven't already.
Millian, who is in his late 30s and won't say when he came to the United States or how he obtained US citizenship, is an intriguing and mysterious figure with a curious connection to Trump. He is president of the Russian-American Chamber of Commerce in the USA (RACC) and the owner of a translation service. The RACC, a nonprofit that Millian started in Atlanta in 2006 and that has survived on shoestring budgets, advocates closer commercial ties between Russia and the United States and assists US firms looking to do business in Russia. In 2009, the group called for the US Congress "to foster necessary political changes to produce a healthier economic environment" and grant permanent normal trade relations status to Russia. Its website notes that it "facilitates cooperation for U.S. members with the Russian Government, Russian Regional Administrations, U.S. Consulates in Russia, Chambers of Commerce in Russia, and corporate leaders from CIS [Commonwealth of Independent States] countries."
Go to Mother Jones to read the rest of this article.