Regulations Not Being Enforced--Watchdog Asks

for USDA to Remove Program Management
CORNUCOPIA, Wis. -- In what has been called one of the largest fraud investigations in the history of the organic industry, The Cornucopia Institute, a Wisconsin-based farm policy-research group, announced filing formal legal complaints against 14 industrial livestock operations producing milk, meat and eggs being marketed, allegedly illegally, as organic.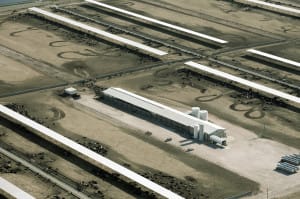 Aurora Dairy, Stratford, Texas, 18,000-head, gaming the system.
(
Image
by
The Cornucopia Institute
)
Permission
Details
DMCA
After years of inaction by the USDA, Cornucopia contracted for aerial photography in nine states, from West Texas to New York and Maryland, over the past eight months. What they found confirmed earlier site visits: a systemic pattern of corporate agribusiness interests operating industrial-scale confinement livestock facilities providing no legitimate grazing, or even access to the outdoors, as required by federal organic regulations.
A photo gallery of the apparent abuses by the giant certified organic operations in question can be found at: http://www.cornucopia.org/organic-factory-farm-investigation.
"The federal organic regulations make it very clear that all organic livestock must have access to the outdoors and that ruminants, like dairy cows, must have access to pasture," said Mark A. Kastel, Senior Farm Policy Analyst at the Wisconsin-based Cornucopia Institute. "The vast majority of these massive, industrial-scale facilities, some managing 10,000-20,000 head of cattle, and upwards of 1 million laying hens, had 100% of their animals confined in giant buildings or feedlots."
The family-scale farmers who helped commercialize the organic food movement starting in the 1980s did so, in part, because agribusiness consolidation and control of the food supply was squeezing profit margins and forcing farmers off the land. Consumers enthusiastically made organics a rapidly growing market sector by supporting farmers and processors that were willing to produce food to a different standard in terms of environmental stewardship, humane animal husbandry, and economic fairness for farmers.
"Shoppers, who passionately support the ideals and values represented by the organic label, understandably feel betrayed when they see photos of these massive CAFOs (concentrated animal feeding operations) masquerading as organic," Kastel added.
The organization recommends consumers consult Cornucopia's organic brand scorecards so they can choose from the many organic brands that partner with farmers and that truly deliver on the promise of better environmental stewardship, humane animal husbandry, and economic justice for the families who produce organic food.
"Many of our dairy farmer-members have animals they truly care for, that have names, not numbers," Kastel added.
Cornucopia filed their first legal complaints against these industrial operations, with varying degrees of success, beginning in 2004. As a result, the largest dairy supplying the Horizon label (now controlled by WhiteWave Foods) was decertified, and the USDA placed sanctions against Aurora Dairy (producing private-label organic milk for Walmart, Costco, Target and various supermarket chains). Both WhiteWave and Aurora are still being investigated by the USDA for improprieties.

- Advertisement -
But the wheels of justice, according to Cornucopia, are now turning slowly or not at all. One example is Arizona-based Shamrock, which operates a vertically-integrated dairy in the desert outside of Phoenix that jointly manages over 16,000 organic and conventional cows. The USDA eventually confirmed the basis of a complaint filed in 2008 by the nonprofit public- interest group, finding the dairy operating illegally -- but not until 2011, three years after the complaint was filed. Now, more than six years later, Shamrock still has a pending appeal and is still selling milk in the Southwest undercutting ethical farmers and competitors that comply with federal organic law.
"The inaction by the USDA places thousands of ethical family-scale farmers, who are competing with a couple of dozen giant dairies, at a competitive disadvantage," said Kevin Engelbert, a New York-based dairyman, milking 140 cows who, along with his family, was the first certified organic dairy producer in the U.S.
The Cornucopia Institute website maintains research-based scorecards rating all organic eggs, dairy products, soy foods, and several other food categories for their adherence to organic ideals, with the stated goal of "empowering consumers and wholesale buyers in the marketplace -- accessing authentic food and rewarding the true heroes in the industry."
Engelbert, who also previously served on the USDA's National Organic Standards Board (NOSB), stated, "When serving on the NOSB, I was always reminded that the recommendations we made to the National Organic Program (NOP) had to be scale-neutral. I would like to see the Organic Food Production Act enforced on a scale-neutral basis as well."
With enforcement of neither the letter of the law nor the intent, many traditional organic dairy farmers are in financial stress right now, with some selling their cows and exiting the industry. "Allowing these illegal dairies to continue to operate is a travesty and significantly undercuts the supply-demand dynamic that should be rewarding farmers in the marketplace and providing a decent living for our families," Engelbert added.