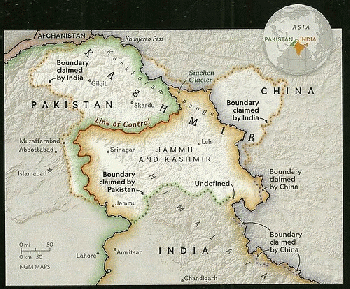 Map

(

Image

by

nathanh100

)

Details DMCA

Indian Defense Minister Rajnath Singh said on Monday that after Pakistan, China is also creating a dispute at the border "as if it was part of a mission".

The minister's comments came at a time when tensions are simmering along the Line of Control (LoC) with Pakistan and the Line of Actual Control (LAC) with China, where Indian Army and the People's Liberation Army (PLA) have been locked in a border row for over five months and efforts to reduce friction have made no headway.

"You are well aware of the conditions created on our northern and eastern borders. First, it was Pakistan, and now also by China, as if a border dispute is being created under a mission. We have a border of about 7,000 kilometres (km) with these countries, where tension prevails on a daily basis," Singh said, while inaugurating a raft of Border Roads Organisation (BRO) projects to provide connectivity to forward areas.

The defense minister was speaking after inaugurating the bridges built in strategically key areas of Ladakh, Arunachal Pradesh, Sikkim, Himachal Pradesh, Uttarakhand, Punjab and Jammu and Kashmir.

The bridges inaugurated by Singh included one on the strategic Darbuk-Shyok-Daulat Beg Oldie (DS-DBO) road that provides connectivity to the country's northern-most outpost, DBO.

A majority of these bridges are expected to significantly improve movement of troops in areas along the border with China in Ladakh, Sikkim and Arunachal Pradesh sectors, Press Trust of India said.

The Defense Minister also laid the foundation stone for the Nechiphu tunnel in Arunachal Pradesh and said the border infrastructure projects were of strategic importance and would provide connectivity to remote areas of the north-eastern state. The 450-metre two-lane tunnel on the road to Tawang will ensure all-weather connectivity across Nechiphu pass besides providing a safe and secure passage through accident-prone areas.

Amid the border standoff with China, India is expediting work on several key projects including on a strategic road linking Darcha in Himachal Pradesh with Ladakh that will criss-cross a number of high-altitude snow-bound passes, the PTI said.

The nearly 290-km-long road will be crucial for the movement of troops and heavy weaponry into the frontier bases of the Ladakh region and will provide a crucial link to the Kargil region.

India, China hold another round of military talks

Meanwhile, India and China on Monday held the seventh round of high-level military talks with the agenda of finalizing a roadmap for disengagement of troops from all the friction points in eastern Ladakh.

As the border standoff entered the sixth month, an early resolution to the row appears dim, the PTI said.

The talks at the Corps commander were held at Chushul, on the Indian side of the Line of Actual Control in eastern Ladakh, the PTI reported.

Close to 100,000 Indian and Chinese troops are deployed in eastern Ladakh as both sides are holding their ground and also showing readiness for a long-haul even as diplomatic and military talks to find an amicable solution continue.

Ahead of the talks, the PTI quoted informed sources as saying that India will press for an early and complete disengagement of troops by China from all the friction points besides demanding restoration of immediate restoration of status quo ante in all areas of eastern Ladakh prior to April. The standoff began on May 5.

The agenda for the talks was finalized by the China Study Group which includes Defense Minister Rajnath Singh, External Affairs Minister S Jaishankar, National Security Advisor Ajit Doval, Chief of Defence Staff Gen Bipin Rawat and three service chiefs, The PTI said adding:

India will strongly oppose any demand by China for withdrawal of Indian troops from several strategic heights on the southern bank of the Pangong lake to kick-start the disengagement process.

(Note: You can view every article as one long page if you sign up as an Advocate Member, or higher).