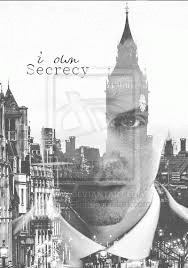 I Own Secrecy
(
Image
by
JullyFlint
)
Details
DMCA
"Suffer us not to mock ourselves with falsehood". T.S. Eliot
Of Smoke 'n Mirrors (In the Wilderness)
It should come as no surprise that from an early age the preeminent espionage storyteller John Le Carre reportedly had "limitless fascination" with the human propensity for secretive behaviour. Given his literary specialty and the fact he was a former British intelligence official, he is someone who knows a thing or three about secrecy's attendant 'pathologies'; these might include stealth, sabotage, subterfuge, subversion, surveillance and sedition (and we might safely speculate, seduction, as it was purportedly he who coined the phrase "honey-trap"), and the inter-connections between all things clandestine and covert.
In short, we're talking here the 'smoke 'n mirrors', 'cloak 'n dagger', Spy v Spy Thing.
In the wake of, and in response to, the Watergate Scandal -- at the time the archetypal manifestation not just of the U.S. government's predisposition for engaging in grand, deceptive political "cloak 'n dagger", but for creating big, ugly secrets and then ruthlessly attempting to preserve their status as such -- le Carre had this to say:
"Until we have a better relationship between private performance and the public truth". We as the public are absolutely right to remain suspicious, contemptuous even, of the secrecy and the misinformation which is the digest of our news."
On April 27, 1961, shortly after he was handed the keys to the White House by a new generation of hopeful Americans (and tellingly, less than two weeks after the calamitous Bay of Pigs invasion in Cuba), the 35th president of the United States John F Kennedy (JFK) presented a speech the oft-cited content of which has never been more significant in its significance. From this address it seems clear that like le Carre's earlier comment indicates, Number 35 -- reportedly a fan of spy novels -- was not completely naïve about the secretive practices of the power elites. Although JFK's address should be read in its entirety to appreciate its full import for the here and now, for our purposes the following extract provides an inkling of his views:
"The very word 'secrecy' is repugnant in a free and open society....We decided long ago that the dangers of excessive and unwarranted concealment of pertinent facts far outweighed the dangers [which are] cited to justify it....there is little value in opposing the threat of a closed society by imitating its arbitrary restrictions....in insuring the survival of our nation if our traditions do not survive with it. And there is very grave danger that an announced need for increased security will be seized upon by those anxious to expand its meaning to the very limits of official censorship and concealment." [My emphasis]