From The Guardian
Far from opening the door to a more loathsome attorney general, Sessions' dismissal would probably mean more headaches for Trump -- and relief from persecution for millions.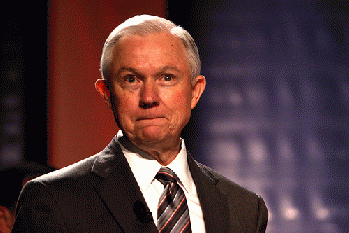 Jeff Sessions
(
Image
by
Gage Skidmore
)
Details
DMCA
Donald Trump has spent the past few days publicly throwing his attorney general, Jeff Sessions, under a bus, apparently furious that Sessions recused himself from the Russia investigation shortly after he was confirmed for the job.
As a result, everyone is speculating that Trump is trying to force Sessions to resign, or will eventually fire him directly if Sessions does not act himself. Strangely, many Democrats seem to be worried that Trump will actually pull the trigger, when they should be welcoming this development with open arms. Sessions leaving the justice department would be a gift to the American public on multiple levels. The argument for Sessions remaining in office centers on the fact that Trump could attempt to install a new attorney general who would have a free hand to fire the special counsel, Robert Mueller, and thwart the Russia investigation. But this argument is both wrong and short-sighted.
Trump probably has other avenues to get rid of Mueller that don't necessarily require a new attorney general, as the former acting solicitor general Neal Katyal wrote in May. They would be politically risky, but that has not stopped Trump before. In addition, since Trump has absolutely no qualms about violating norms of the presidency, he could also pardon those who are under investigation and undercut the criminal element of Mueller's mandate anyway.
But even if that weren't the case, viewing Sessions solely through the lens of the Russia investigation is an insult to the countless Americans who will suffer under Sessions' extremist reign as attorney general.
Think about all the abhorrent policies Sessions has already put into motion in his five short months at the helm. He has provided legal backing for Trump's extreme immigrations policies. He has argued that authorities can keep grandparents apart from their family when enforcing Trump's controversial travel ban. He is laying the groundwork to crack down on the millions of people who use recreational marijuana in states where it is now legal. He has planned a crackdown on leakers and whistleblowers, while also refusing to rule out prosecuting news organizations directly for doing their job.