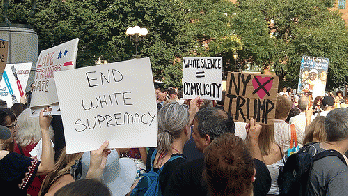 Rally Against Hate
(
Image
by
edenpictures
)
Details
DMCA
In a White House briefing, Sarah Huckabee Sanders answered a question about the national anthem protests by NFL players saying, as she snickered, "I don't think there's much to clarify, it's pretty black and white."
According to some sources, she wasn't even trying to act like an entitled white supremacist.
Internet reacts to Sarah Huckabee Sanders' 'Black and White' comment : https://t.co/uamBbmYg9k via @AOL at https://t.co/uamBbmYg9k

— gladys jones (@gagallc) September 29, 2017
Meanwhile, veteran and member of the American Foreign Legion, Marvin L. Boatright, held a flag and took a knee as the Trump motorcade passed by.
Holding flag, U.S. vet takes a knee for #Trump: https://t.co/AZVPfBcAdl #uspoli #uspolitics #TakeTheKnee https://t.co/VQ4yLOw8QM at https://t.co/AZVPfBcAdl

— Yahoo Canada (@YahooCanada) September 29, 2017
"As a veteran, and as an African-American, we have already and we continue to serve for God and country," Boatright said. "But you can have a love of God and country and still be against social injustice. You don't have to separate one from the other...For the commander in chief to call our citizens 'sons of a bitches' was totally wrong and beneath the dignity of the office that he holds," he said.