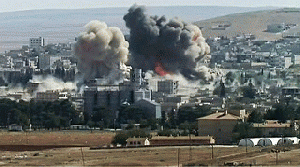 Middle East wars: Waste, mass killing, destruction, displacement of refugees, a lot by the U.S. without sufficient justification.

(

Image

by

quapan

)

Details DMCA

>

Sometimes, you screw up so badly that you can't succeed and can't even remedy your damage. That's what's happened by our bipartisan policy of democratizing the Middle East by regime change. Bush's destruction of Iraq set fire to the Shia-Sunni borderland. Obama's misinterpretation of events as an "Arab Spring" (for democracy?) spread fires of civil war further. The Middle East, with 1.4 billion Muslims, though burning, won't go away, nor will deepening Muslim hostility to us and to an expansionist Israel.


This election shouldn't be just a personality contest. It's a chance for voters to tell Washington's mission-creepin' cretins that we want you to stop spending our money meddling, and killing people all over the Middle East! The Taliban, ISIS, and Al Qaeda are horrible, but our attacks are just spreading them around the world. Uncle Sam now funds and arms corrupt military dictatorships or weak civilian governments in Afghanistan, Iraq, Egypt, and civil wars in Libya and Yemen.

As with Vietnam, we are again wasting tremendous resources on foreign wars instead of needed domestic expenditures. Congress failed for years to limit expenditures for Vietnam. Voters, through pressing party leaders, should insist the parties refuse further funding for "regime change!" In 1968 and 1972 the Democratic Party pushed away its peace candidates. No big establishment "liberal" would run with McGovern. Democrats lost both elections to Richard Nixon and Vietnam collapsed anyway.

Candidates' domestic goals need Congressional funding. Every identity should have a chance at a representative occupying the White House (women, and Jews too.) Neither Sanders nor Clinton is likely to get costly domestic programs approved through the Republicans of Congress. But the President governs more independently as Commander in Chief. With a popular outcry to stop funding aggressive regime change, a 74-year-old Jewish President might announce a policy change to strategic disengagement. Cease fire unless fired upon. Redeploy all U.S troops out of Muslim lands, evacuating threatened minorities (willing to leave with resettlement support.) Place U.S. troops to guard Israel's 1967 borders plus a cordon completely around a U.N. administered, disputed West Bank. Call a world conference for Peace and Repartition.

So here's my outcry to start. Neither party's candidates will get my vote(s) unless they adopt a platform plank that forbids further funding for Middle East regime change. Ms. Wasserman Schultz, Mr. Priebus, etc.: how, otherwise, will this end? How will it not get ever worse?
Election of Hillary Clinton or any Republican candidate (as of 4.8.16) is likely to continue war for .regime change. in the Middle East for up to 8 more years!
(
Image
by
Imaginary Museum Projects: News Tableaus
)
Details
DMCA