From Consortium News
Walter Raymond Jr., a CIA propaganda and disinformation specialist who oversaw President Reagan's 'perception management' and psyops projects at the National Security Council. Raymond is partially obscured by President Reagan and is sitting next to Nation
(
Image
by
(Photo credit: Reagan presidential library)
)
Details
DMCA
Newly declassified documents from the Reagan presidential library help explain how the U.S. government developed its sophisticated psychological operations capabilities that -- over the past three decades -- have created an alternative reality both for people in targeted countries and for American citizens, a structure that expanded U.S. influence abroad and quieted dissent at home.
The documents reveal the formation of a psyops bureaucracy under the direction of Walter Raymond Jr., a senior CIA covert operations specialist who was assigned to President Reagan's National Security Council staff to enhance the importance of propaganda and psyops in undermining U.S. adversaries around the world and ensuring sufficient public support for foreign policies inside the United States.
Raymond, who has been compared to a character from a John LeCarre' novel slipping easily into the woodwork, spent his years inside Reagan's White House as a shadowy puppet master who tried his best to avoid public attention or -- it seems -- even having his picture taken. From the tens of thousands of photographs from meetings at Reagan's White House, I found only a couple showing Raymond -- and he is seated in groups, partially concealed by other officials.
But Raymond appears to have grasped his true importance. In his NSC files, I found a doodle of an organizational chart that had Raymond at the top holding what looks like the crossed handles used by puppeteers to control the puppets below them. Although it's impossible to know exactly what the doodler had in mind, the drawing fits the reality of Raymond as the behind-the-curtains operative who was controlling the various inter-agency task forces that were responsible for implementing various propaganda and psyops strategies.
Until the 1980s, psyops were normally regarded as a military technique for undermining the will of an enemy force by spreading lies, confusion and terror. A classic case was Gen. Edward Lansdale -- considered the father of modern psyops -- draining the blood from a dead Filipino rebel in a such a way so the dead rebel's superstitious comrades would think that a vampire-like creature was on the prowl. In Vietnam, Lansdale's psyops team supplied fake and dire astrological predictions for the fate of North Vietnamese and Vietcong leaders.
Essentially, the psyops idea was to play on the cultural weaknesses of a target population so they could be more easily manipulated and controlled. But the challenges facing the Reagan administration in the 1980s led to its determination that peacetime psyops were also needed and that the target populations had to include the American public.
The Reagan administration was obsessed with the problems left behind by the 1970s' disclosures of government lying about the Vietnam War and revelations about CIA abuses both in overthrowing democratically elected governments and spying on American dissidents. This so-called "Vietnam Syndrome" produced profound skepticism from regular American citizens as well as journalists and politicians when President Reagan tried to sell his plans for intervention in the civil wars then underway in Central America, Africa and elsewhere.
While Reagan saw Central America as a "Soviet beachhead," many Americans saw brutal Central American oligarchs and their bloody security forces slaughtering priests, nuns, labor activists, students, peasants and indigenous populations. Reagan and his advisers realized that they had to turn those perceptions around if they hoped to get sustained funding for the militaries of El Salvador, Guatemala and Honduras as well as for the Nicaraguan Contra rebels, the CIA-organized paramilitary force marauding around leftist-ruled Nicaragua.
So, it became a high priority to reshape public perceptions to gain support for Reagan's Central American military operations both inside those targeted countries and among Americans.
A "Psyops Totality"
As Col. Alfred R. Paddock Jr. wrote in an influential November 1983 paper, entitled "Military Psychological Operations and US Strategy," "the planned use of communications to influence attitudes or behavior should, if properly used, precede, accompany, and follow all applications of force. Put another way, psychological operations is the one weapons system which has an important role to play in peacetime, throughout the spectrum of conflict, and during the aftermath of conflict."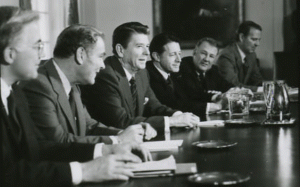 President Ronald Reagan leading a meeting on terrorism on Jan. 26, 1981, with National Security Advisor Richard Allen, Secretary of State Alexander Haig, Defense Secretary Caspar Weinberger and White House counselor Edwin Meese.
(
Image
by
(photo credit: Reagan library)
)
Details
DMCA
Paddock continued, "Military psychological operations are an important part of the 'PSYOP Totality,' both in peace and war. ... We need a program of psychological operations as an integral part of our national security policies and programs. ... The continuity of a standing interagency board or committee to provide the necessary coordinating mechanism for development of a coherent, worldwide psychological operations strategy is badly needed."
Some of Raymond's recently available handwritten notes show a focus on El Salvador with the implementation of "Nation wide multi-media psyops" spread through rallies and electronic media. "Radio + TV also carried Psyops messages," Raymond wrote. (Emphasis in original.) Though Raymond's crimped handwriting is often hard to decipher, the notes make clear that psyops programs also were directed at Honduras, Guatemala and Peru.
(Note: You can view every article as one long page if you sign up as an Advocate Member, or higher).