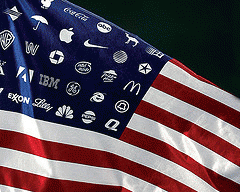 Corporate America

(

Image

by

Owner Unknown

)

Details DMCA

>Every nation gets the government it deserves. (Joseph-Marie, comte de Maistre (1 April 1753 -- 26 February 1821) was a Savoyard lawyer, diplomat, writer, and philosopher.)

This is a fact not an opinion. When I first read this quote, I believed the author had it wrong. I thought about nations that had governments forced on them, from outsiders and from their own people. The more I thought about it, the more convinced I became that the author had it wrong. I received a rude awakening as I was driving my wife home from the hospital where she had spent a full week in ICU battling septicemia where half the week was spent with a ventilator tube that went from her mouth to her lungs. The doctors told me on the first day that if she survived the next 24 hours she just might make it. My brother looked at me and grabbed my arm to steady me. I couldn't believe what I had just heard.

I spent the next few days at her bedside while she lay in a drug induced coma so that her body could have a chance to heal, this was on a Sunday. Politics, writing, the Occupy movement, and everything else I had been involved with fell by the wayside. The only thing I could do was to hope that she would survive. I nodded off from time to time in the chair next to her bed. I was focused on only one thing, and that was her survival. I was told that her kidneys had shut down and if they could save her, she may have to go on dialysis. They also told me that she may lose her vision, and that she may need oxygen for the rest of her life.

She recovered after they infused her with massive doses of antibiotics. The tube came out on Wednesday and she was taken out of her coma. Another three days in ICU and she was taken to a room to recover. She started asking me what happened and I told her everything (since my wife was an RN, I couldn't leave anything out, as much as I tried). She became very quiet for the next few days. I guess a brush with death will do that to a person.

When she was discharged, we rode home and she remained quiet. After about ten minutes she turned to me and asked "How did we let this happen?" I told her that sometimes people get sick and never know why. She shook her head and said "No, I'm not talking about me, I mean how did we let this happen to the country." I couldn't believe what I was hearing. Here was a woman that was at deaths door just a few days ago and hear she was, lamenting about what the hell happened to America. She talked about the NDAA, the wars and the power of the Federal government. She used the word fascism a few times. This was what was on her mind.

Now I'm the radical dissident in the family, not her. To hear her go on about the people letting everything they once believed in being destroyed by all the politicians that we elected. She had tears in her eyes. As she went on about the government controlling everything, reading e-mails and tapping phone conversations and passing laws that made protests on Federal property a felony, she turned her melancholy mood into anger. I had to change the subject, she was in a weakened state and I didn't want her to become upset. Still, that question "How did we let this happen?" reverberated through my mind to this day. Indeed, how the hell DID we let this happen? The more I thought about it, the angrier I got.

You see, I'm not angry with the government, I'm angry with the people of this country. I spent three years in Germany, asking the older folks that were around when the Nazi's were in power, "How the hell did you people let that happen?" I received the same answer from everyone. They told me that they never understood what was happening until it was too late. They were asleep at the wheel; they were in a self-induced coma, enjoying the good things that the Nazi's brought to Germany. They were enjoying the economic revival of their nation after years of hyper-inflation, unemployment and anger over the reparations they were forced to pay for World War One that they didn't start. The nation was in tatters when Hitler and the Nazi's came to power. The people were grateful to the National Socialists that gave them back their dignity.

Many Germans saw what was happening and they left Germany, but the majority of them turned a blind eye when the government started banning political protests, after all, there were many nations that were a threat to the Third Reich. Everything the government did was to protect their citizens from external threats. The Reichstag gave the Nazi's free reign to remove their constitutional rights in order to "protect" the people from their enemies. They glorified their armed forces and hung Nazi banners everywhere. The news was written by and large by the government. Many of their activities were labeled "secret" in order that their "enemies" were kept in the dark. Patriotic Germans supported and accepted this behavior and believed that it was necessary to protect the German people from outside threats.

Sadly, Germany wasn't the only nation that experienced this behavior from its government. Throughout history dictatorial governments have taken control by using propaganda, glorifying their armed forces and posing threats to their citizens from dangers from external enemies of the state.

(Note: You can view every article as one long page if you sign up as an Advocate Member, or higher).