This piece was reprinted by OpEd News with permission or license. It may not be reproduced in any form without permission or license from the source.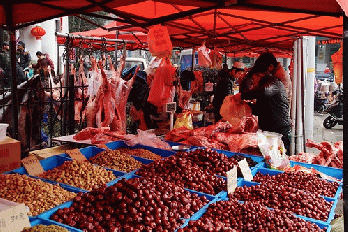 Uyghur Market
(
Image
by
Mathias Apitz (Munchen)
)
Details
DMCA
In 2019, I have written a long analysis about "the Uyghur issue"; analysis which will be soon published as a book.
For some time, I have been warning the world that the West, and the United States in particular, is helping to radicalize the Uyghurs in Xinjiang Province and outside.
And not only that: I clearly mapped the movement of the Uyghur radicals through some countries like Indonesia, towards Turkey, from where they are then injected into brutal war zones like Idlib in Syria. I worked in the Idlib area, with the Syrian commanders, and I spoke at length with the Syrian internally displaced people; victims of the Uyghur genocidal attacks.
The majority of Uyghur people are Muslims. They have their own, ancient, specific culture and most of them are, of course, very decent human beings. Northwest China is their home.
The "problem" is that Urumqi, Xinjiang, are located on the main branch of BRI (The Belt and Road Initiative) - an extremely optimistic, internationalist project which is ready to connect billions of people on all continents. The BRI is infrastructural as well as a cultural project, which will soon pull hundreds of millions of people out of poverty and out of underdevelopment.
Washington is horrified that China is taking a lead in building a much brighter future for humanity. It is because, if China succeeds, it could be the end of Western imperialism and neo-colonialism, leading to real freedom and independence for dozens of until now suffering nations.
Therefore, Washington has decided to act, in order to preserve the status quo and its dominance over the world.
Step one: to antagonize, provoke and to smear China by all means, be it over Hong Kong, Taiwan, South China Sea or, the above mentioned "Uyghur Issue".
Step two: to try to turn a part of China's constitutionally-recognized national minority Uyghurs into "rebels", or more precisely, terrorists.
Turkey, a member of NATO, offered the U.S. a helping hand. Uyghurs were flown with their families to Istanbul, with Turkish passports, through hubs in Southeast Asia. Then, their passports were confiscated in Istanbul. Many Uyghurs were recruited, trained, and then transported into war-torn Syria. Smaller groups stayed in places like Indonesia, joining jihadi cadres there. When terrorist groups in Syria were almost thoroughly defeated, some Uyghurs were moved to Afghanistan, where I also used to work and investigated.
Needless to say, Afghanistan has a short but important border with China.
Why all this complex operation? The answer is simple: NATO/Washington/West hope that the hardened, well-trained Uyghur jihadi fighters will eventually return home to Xinjiang. There, they would start to fight for "independence", and while doing that, they would sabotage the BRI.
This way, China would be injured, and its most powerful global project (BRI) would be disrupted.
The Chinese government is, naturally, alarmed. It is clear that the West has prepared a brilliant trap: 1) If China does nothing, it will have to face extremely dangerous terrorist threat on its own territory (remember Soviet Union being dragged into Afghanistan, and mortally injured by Western trained, financed and supported Mujahedeen? The West has long history of using Islam for its Machiavellian designs). 2) If China does something to protect itself, it will get attacked by the Western media and politicians. Precisely this is what is happening now.
Everything is ready, prepared.
(Note: You can view every article as one long page if you sign up as an Advocate Member, or higher).