This piece was reprinted by OpEd News with permission or license. It may not be reproduced in any form without permission or license from the source.
Reprinted from Consortium News
President Barack Obama and Secretary of State Hillary Clinton honor the four victims of the Sept. 11, 2012, attack on the U.S. mission in Benghazi, Libya, at the Transfer of Remains Ceremony held at Andrews Air Force Base, Joint Base Andrews, Maryland, on
(
Image
by
State Department photo
)
Details
DMCA
A few weeks after leaving office, former Secretary of State Hillary Clinton may have breathed a sigh of relief and reassurance when Director of National Intelligence James Clapper denied reports of the National Security Agency eavesdropping on Americans. After all, Clinton had been handling official business at the State Department like many Americans do with their personal business, on an unsecured server.
In sworn testimony before the Senate Intelligence Committee on March 12, 2013, Clapper said the NSA was not collecting, wittingly, "any type of data at all on millions or hundreds of millions of Americans," which presumably would have covered Clinton's unsecured emails.
But NSA contractor Edward Snowden's revelations -- starting on June 5, 2013 -- gave the lie to Clapper's testimony, which Clapper then retracted on June 21 -- coincidentally, Snowden's 30th birthday -- when Clapper sent a letter to the Senators to whom he had, well, lied. Clapper admitted his "response was clearly erroneous -- for which I apologize." (On the chance you are wondering what became of Clapper, he is still DNI.)
I would guess that Clapper's confession may have come as a shock to then ex-Secretary Clinton, as she became aware that her own emails might be among the trillions of communications that NSA was vacuuming up. Nevertheless, she found Snowden's truth-telling a safer target for her fury than Clapper's dishonesty and NSA's dragnet.
In April 2014, Clinton suggested that Snowden had helped terrorists by giving "all kinds of information, not only to big countries, but to networks and terrorist groups and the like." Clinton was particularly hard on Snowden for going to China (Hong Kong) and Russia to escape a vengeful prosecution by the U.S. government.
Clinton even explained what extraordinary lengths she and her people went to in safeguarding government secrets: "When I would go to China or would go to Russia, we would leave all my electronic equipment on the plane with the batteries out, because ... they're trying to find out not just about what we do in our government, they're ... going after the personal emails of people who worked in the State Department." Yes, she said that. (emphasis added)
Hoisted on Her Own Petard
Alas, nearly a year later, in March 2015, it became known that during her tenure as Secretary of State she had not been as diligent as she led the American people to believe. She had used a private server for official communications, rather than the usual official State Department email accounts maintained on federal servers. Thousands of those emails would retroactively be marked classified -- some at the TOP SECRET/Codeword level -- by the department.
During an interview last September, Snowden was asked to respond to the revelations about highly classified material showing up on Clinton's personal server: "When the unclassified systems of the United States government, which has a full-time information security staff, regularly gets hacked, the idea that someone keeping a private server in the renovated bathroom of a server farm in Colorado is more secure is completely ridiculous."
Edward Snowden
(
Image
by
(From Wikimedia) Laura Poitras / Praxis Films
, Author:
Laura Poitras
/
Praxis Films
)
Details
Source
DMCA
Asked if Clinton "intentionally endangered US international security by being so careless with her email," Snowden said it was not his place to say. Nor, it would seem, is it President Barack Obama's place to say, especially considering that the FBI is actively investigating Clinton's security breach. But Obama has said it anyway.
"She would never intentionally put America in any kind of jeopardy," the President said on April 10. In the same interview, Obama told Chris Wallace, "I guarantee that there is no political influence in any investigation conducted by the Justice Department, or the FBI -- not just in this case, but in any case. Full stop. Period."
But, although a former professor of Constitutional law, the President sports a checkered history when it comes to prejudicing investigations and even trials, conducted by those ultimately reporting to him. For example, more than two years before Bradley (Chelsea) Manning was brought to trial, the President stated publicly: "We are a nation of laws. We don't let individuals make decisions about how the law operates. He [Bradley Manning] broke the law!"
Not surprisingly, the ensuing court martial found Manning guilty, just as the Commander in Chief had predicted. Though Manning's purpose in disclosing mostly low-level classified information was to alert the American public about war crimes and other abuses by the U.S. government, Manning was sentenced to 35 years in prison.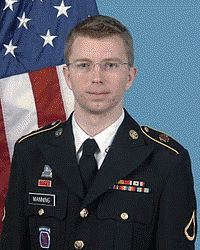 U.S. Army Pvt. Bradley (now Chelsea) Manning
(
Image
by
Official photograph of Manning from the United States Army
)
Details
DMCA
(Note: You can view every article as one long page if you sign up as an Advocate Member, or higher).