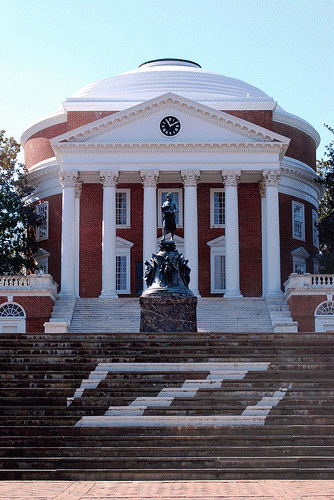 The Rotunda at the University of Virginia in Charlottesville.
(
Image
by
Kevin H.'s Fickr Photostream
)
Details
DMCA
Public support of higher education, it seems, has always been a challenge. The value of college degrees has recently been challenged in the news media, noting the need for vocational training in the trades and questioning whether college degrees are overrated. Our society will always need trained professionals, whether they be plumbers, electricians (traditional trades) or professionals holding specialized advanced degrees.
President Obama has set a goal for Americans to rank number 1 worldwide (we are currently ranked 12th) in the college graduation rate in the next decade. This would require about 60% of Americans to "earn college degrees and certificates by 2020 to regain our international lead, compared with about 40% today", according to Education Secretary Arne Duncan. To meet this ambitious goal, eight million more students would need to complete their college degrees, whether at the Associate or Bachelor's level, in the next decade.
Public institutions of higher education are increasingly expected to do more with less. In New Jersey, the legislature has reduced funding to state colleges and universities more than seven times in the last decade. The last public bond investment for facilities was some 22 years ago. At the same time, enrollments continue to increase.
With a new academic year upon us soon, I would like to offer a little perspective.
Imagine this scenario. A brilliant leader in education dreams of founding a new public University that will provide the finest education possible. S/he firmly believes that an educated citizenry is necessary for a free society.
Sufficient funds have been raised to support initial construction of the academic buildings and the first faculty member has been hired. But the state legislature is reluctant to provide funding to allow completion of the building, causing considerable delays of opening for its first academic year. Ripple effects ensue. The first freshmen class cannot be admitted if the University is not ready, and the first cohort of faculty are up in arms, as are the staff - not to mention the builder and construction crew waiting to complete the buildings.
Fuming with frustration, the founder writes a letter in March to one of the new faculty members informing him that:
""the Treasurer's default at so critical a moment will, in my opinion, have the unfortunate effect of delaying the opening (of) the institution another year,""
(Note: You can view every article as one long page if you sign up as an Advocate Member, or higher).