By Robert Wilbur and Martha Rosenberg
Last year, a coalition of animal lovers seeking to ban Manhattan's carriage horse industry helped defeat Christine Quinn, once the front-runner for mayor, because she opposed such a prohibition. Mayor de Blasio, who beat Quinn, pledged his first action as mayor would be to ban the controversial rides. Yet where is the ban?
Last month about 30 protesters gathered across from Gracie Mansion to exhort Mayor de Blasio to fulfill his campaign promise. New York's carriage horses are "stripped of the ability to do anything horses would naturally do. They don't belong here in the city," said Donny Moss, a member of the Coalition to Ban Horse-Drawn Carriages "It's inhumane and unsafe."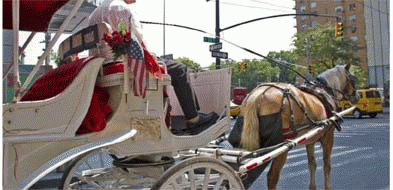 Time to retire this industry, many say
(
Image
by
Martha Rosenberg
)
Details
DMCA
The carriage horses are getting hurt and spooked on streets and some spend nights standing in narrow stalls agreed Brian Gari, another member of the Coalition to Ban Horse-Drawn Carriages, with the mournful sound of bagpipes in the background.
People would be "appalled" at the conditions of the stables that are not shown to the public as the stable on 52nd Street was, added Moss.
While Mayor Bill de Blasio reaffirmed his sentiments this week and indicated that legislation would soon be introduced paving "the pathway to an ultimate ban" of carriage horses from Central Park, some predict a ban will have a hard time in City Council.
Councilman Rafael Espinal, head of the Consumer Affairs Committee where previous carriage-related bills have originated, recently declared his opposition to the ban on the basis of lost jobs. "What will these 300 workers do?" he asked. Demos Demopoulos, a leader of Local 553 of the Teamsters, which represents the carriage drivers' union, is also against the ban and predicted it will go nowhere.
Just over a year ago we wrote an article on how a pledge to ban the horse-drawn carriage industry was thrusting the political unknown, Bill de Blasio, into the forefront of the mayoral race. The hapless carriage horses not only brought de Blasio early exposure, they helped to fill his campaign coffers. Why? Because the horses inspired parking lot czar Steve Nislick to bankroll NYCLASS, an organization devoted to phasing out the carriage horse industry. The backing included help from Wendy Neu, a Manhattan businesswoman who also reportedly poured money into the de Blasio campaign.
(Note: You can view every article as one long page if you sign up as an Advocate Member, or higher).