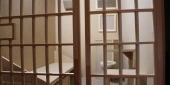 Herman's House Art Exhibit
(
Image
by
Photo Gallery Herman's House
)
Details
DMCA
Herman's House Art Exhibit by
Photo Gallery Herman's House

Herman's House
After spending over 40 years in solitary confinement, Herman Wallace died a free man on October 4, 2013, just three days after his release from prison. Wallace had been suffering from liver cancer and was taken to a hospice in New Orleans upon his release. Despite a Federal Judge's order, Louisiana appealed Wallace's release and a Grand Jury re-indicted him on October 3, 2013. Wallace died the following day. He was 71 years old.
Herman Wallace is believed to be the longest-serving prisoner in solitary confinement in the United States.
Accused of murdering a prison guard in 1972, Wallace maintained his innocence throughout his life. DNA evidence had been lost and eyewitness accounts have been discredited. At the time of his conviction, Wallace had been an activist and was known as one of the
Angola 3
, who sought to improve prison conditions. The Angola 3 and their supporters say they were framed for their political activism.
In 2001, Herman received a letter from Jackie Sumell, a young New York City art student. The letter asked him ""What kind of house does a man who has lived in a six-foot- by-nine-foot cell for over 30 years dream of?"
Herman said "What kind of house does a man in solitary confinement dream about? I don't dream about no house."
"I'm not a lawyer and I'm not rich, you know, and I'm not powerful, but I'm an artist and I knew that the only way I could get him out of prison was to get him to dream." said Jackie.
Jackie Sumell by
Herman's House Photo Gallery
However, this question to Herman in 2001 led to hundreds of letters, a friendship, and a collaborative art project and art installation duplicating a cell in solitary confinement. The exhibit, titled "The House That Herman Built", has enabled visitors from all over the world to view up close the harsh realities of living in solitary confinement in the American prison system.
Most cells for solitary confinement measure less than 8 x 10 feet, which is the size of a parking space. Herman lived in his cell for 23 hours a day for more than 40 years. "If I make 3 steps forward I'm going to touch the door, if I turn an about face at any place in my cell I bump into something." He had said that he's "used to it, and that's one of the bad things about it."
Herman's and Jackie's collaboration did not end there. One day, Herman asked Jackie to make his dream a reality. A feature documentary, "Herman's House", resulted which explores the 12 year friendship between these two extraordinary people.
Herman Wallace by
Angola News Blog
Herman said that "to build this house is to build my soul." In front of his house he has three gardens. "I would like my guests to be able to smile and walk through flowers all year long. Whether I live in a house or not, it makes no difference. It is the symbol of what this house is all about."
There are more than 80,000 people, including thousands of juveniles 14 and 15 years old, being held in solitary confinement in this country right now. Hopefully this film will draw even more activists to the cause of ending this inhumane and harsh punishment.
This film is now being shown throughout the country. PBS has also aired this movie.
Screenings:
http://hermanshousethefilm.com/screenings/
Film trailer:
http://hermanshousethefilm.com/