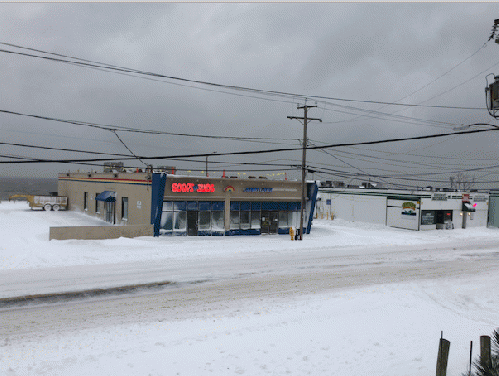 View at the intersection of Ocean View Ave and First View Street, facing north. Chesapeake Bay can be seen at left, historic Greenie's Bar and Grill is at right.
(
Image
by
Meryl Ann Butler
)
Details
DMCA
Helena has hit the historic, coastal Ocean View area of Norfolk, VA with high winds and more snow than the area has seen in a long while. Local videographer Paul Unger posted an up-close video of pre-dawn and mid morning shots of the blizzard in this funky and friendly beach town. Most of the areas shown in the video are on Ocean View Ave., which runs along the beach and the Chesapeake Bay.
The local Tidewater area only saw a light dusting of snow once during the first decade-plus that I lived in the area, in the 80's and 90's. But that's changed drastically in the last decade.
This may not look like crisis weather to those of us who have experienced, say, driving in a blizzard on the NY State Thruway. In an old Pontiac. With bald tires. After the highway department closed it to all oncoming traffic. Which I may or may not have been a party to when I was young.
However, these areas in the south haven't had decades of this kind of weather to prepare. Most buildings are not insulated the way they are up north, and cities often have to borrow snow plows from neighboring areas.
Norfolk seems to have been pretty prepared, though.
Unger's video has better shots than most news media: Ocean View, Norfolk, VA - Winter snow! January 7, 2017
View at the intersection of Ocean View Ave and First View Street, facing west.
(
Image
by
Still from Unger's video, Ocean View, Norfolk, VA - Winter snow! January 7, 2017
)
Details
DMCA