"Soldier. Veteran. Surfer. Member of Congress. Doing my best to be of service."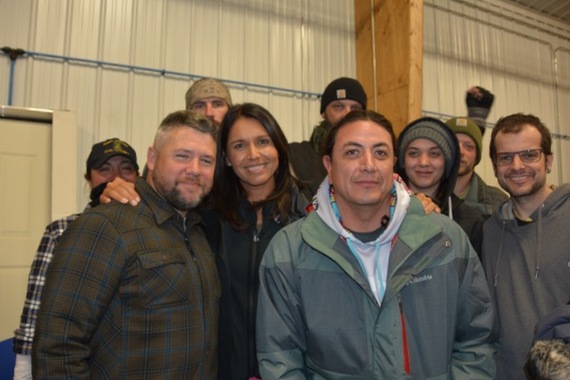 Congresswoman Gabbard with Standing Rock Sioux Chairman Dave Archambault II (center right) and supporters
U.S. Congresswoman Tulsi Gabbard's (D-HI) Twitter handle is an accurate summation of the unpretentious woman who stood before 400 Veterans and Water Protectors at Sitting Bull College in Fort Yates, North Dakota. It was a frigid Dakota Saturday night, and you could have heard the proverbial pin drop echo against the metal walls as she addressed the crowd. Gabbard served two tours of duty in the Middle East, and she continues her service as a Major in the Army National Guard. In 2005 she completed a 12-month tour in Iraq, where she served in a field medical unit as a specialist with a 29th Support Battalion medical company. Gabbard was awarded the Meritorious Service Medal at the end of the tour.
The vets were proud to have one of their own in a visible leadership role. It was written on their faces and obvious in the occasional tear that was quickly wiped away.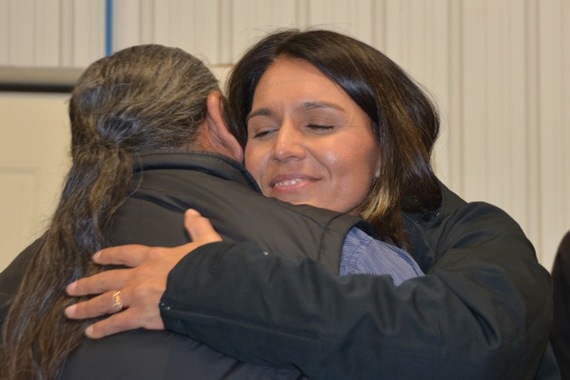 A compassionate embrace
In a show of solidarity with the Standing Rock Sioux, Congresswoman Gabbard is joining thousands of veterans from across the United States who have come to Standing Rock and the Cheyenne River Sioux Reservation to protest the building of the Dakota Access Pipeline (DAPL). The pipeline, if approved by the U.S. Army Corps of Engineers, would cross under the Missouri River and threaten not only the water supplies of Standing Rock, but also that of the Cheyenne River Sioux to the south.
(Note: You can view every article as one long page if you sign up as an Advocate Member, or higher).