Social networking may turn out to be the first line of defense against public relations spin by providing real time gathering of data on the massive river of oil flowing into the Gulf of Mexico from the Transocean/Deepwater Horizon well explosion. Maps generated by satellite and "predictions" are only so valuable. One of the tenets of remote sensing is that "ground truthing" be a mandatory part of the equation. Truth is the operative word here as Gulf Coast residents face an unprecedented environmental disaster.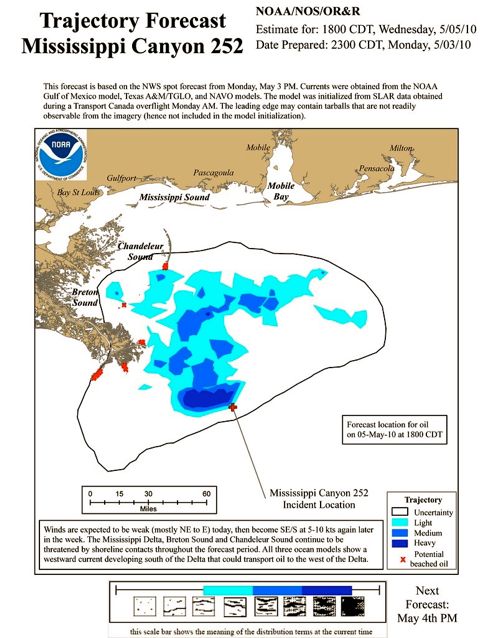 The Louisiana Bucket Brigade, a health and justice organization in New Orleans, is asking residents of the Gulf Coast to report fisherman out of work, endangered wildlife, oil on shore, oil sheens, health impacts and other problems using a new tool known as the Oil Spill Crisis Map. "The Oil Spill Crisis Map compiles and maps eyewitness accounts of the oil's effects in real time," said Anne Rolfes of the Louisiana Bucket Brigade. "This is a tool for all of us to understand the extent of the damage."
Reports can be made and viewed at the organization's website. Mobile phone users can text reports to (504) 2727 OIL. Reports can also be sent by email (bpspillmap@gmail.com) and through Twitter with the hashtag #BPspillmap. Eyewitness reports for the map require a description, and location information such as address, city and state, zip code or coordinates. Citizen reporters can remain anonymous or disclose their contact information. Photos and video can be uploaded via the web.
The Haiti Operational Biosurveillance Network is using this type of crisis mapping in Haiti. This concept was introduced to Haiti after the January earthquake by Dr. Jim Wilson, who, among other things, has tracked and identified SARS outbreaks, H1NI, Marburg hemorrhagic fever, and issued the first warning of H1N1 resurgence in the United States in the summer of 2009.
The Oil Spill Crisis Map implements technology called "Ushahidi," first used by bloggers in Kenya to display eyewitness reports of that country's post-election violence in that 2008.
Tulane University graduate students, Louisiana Bucket Brigade staff and California based Radical Designs have partnered to create the Oil Spill Crisis Map.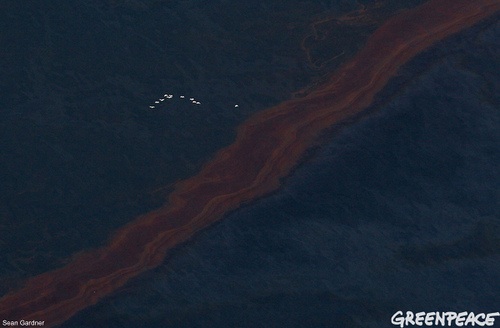 "Birds fly over a band of oil in this view of the Gulf of Mexico south of Louisiana where oil leaking from the Deepwater Horizon wellhead continues to spread Wednesday, April 28, 2010. A BP leased oil platform exploded April 20 and sank after burning. Eleven workers are missing, presumed dead. An estimated leak of around 1000 barrels (30,000-40,000 gallons, more than 100,000 litres) of crude oil per day from the broken pipeline to the sea." (Greenpeace)
But Greenpeace cannot be everywhere.
Public testimony is one way to balance the public relations spin coming from the "Incident Command" headquarters. Photo opportunities and press releases have been carefully managed since the disaster began to unfold on April 20.

In a bit of good news the New Orleans Advocatereported that ocean currents may be keeping a massive pool of thick, heavy oil offshore and out of Louisiana's marshes, barrier islands and coastline, a Louisiana State University Meteorologist said Monday.
But, it is the fisherman and local resident who know these marshes and waters like the backs of their hands and who will be the first to notice anything unusual in terms of water quality changes or wildlife in distress. The use of this kind of independent public testimony is a watchdog for information sharing, transparency and accountability. So far, media has been dependent upon embedding with the Coast Guard or relying on joint press conferences staged by the Coast Guard, Homeland Security and British Petroleum.
Florida Governor Charlie Christ suggested that British Petroleum may be hampering the state's ability to protect its coastal areas from what is being called the worst oil spill in Unites State's history, eclipsing the Exxon Valdez disaster, according to a report in the Palm Beach Post.

Gov. Charlie Crist dispatched state Environmental Protection Secretary Mike Sole to the Mobile Unified Command center in Alabama this weekend, the hub of the federal and multi-state emergency response coordinated with British Petroleum.


"The message that was sent from me, through the secretary to the (Coast Guard), was that we need to stand up and get more aggressive about this," Crist said.


But echoing complaints during and after the response to Hurricane Katrina, there appears to be a lack of coordination between all of those involved -- including BP, Florida's chief financial officer, Alex Sink, said after visiting Mobile and the Panhandle on Monday.
"I'm not personally satisfied with the way the communication is occurring. There seem to be breakdowns between the (emergency operations centers) and the Mobile Unified Command," Sink, the presumptive Democratic candidate for governor, told reporters early Monday evening. "There's still a lot of confusion."
One example was the failure of booms during the extreme weather last week. While the Coast Guard and BP were putting out figures of linear feet of boom, ships were stranded in port and booms on the water were failing.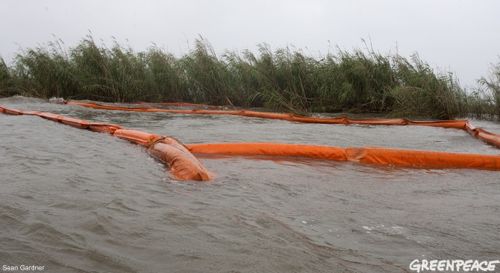 With ordinary citizens inputting real-time photos and testimony, the general public will have the opportunity to experience first hand what is really happening in the Gulf of Mexico and along its shores. Local Gulf Coast officials might want to consider partnering with this grass-roots project.