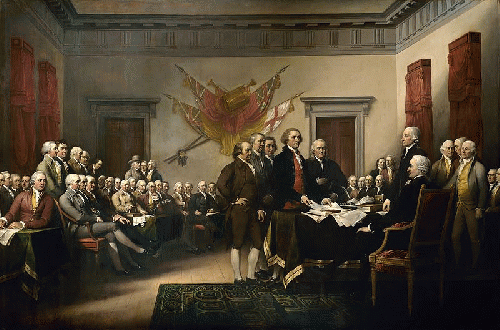 Signing of The Declaration of Independence by John Trumbull
(
Image
by
U.S. Capitol, Public Domain
, Author: Author Not Given)
Details
Source
DMCA
This is the second of two parts on the useless cynicism of libertarians, and their utter failure to provide anything other than Utopian solutions to very real problems. You can find Part One here.
Men of Vision, Men of Cruelty
"Men come into business at first, with visionary principles. It is practice alone which can correct and conform them to the actual current of affairs. In the meantime, those to whom their errors were first applied have been their victims." --Thomas Jefferson to James Madison, 1788. The Complete Writings of Thomas Jefferson, Memorial Edition; volume 7: p. 42; 1904.

Lynn Stuart Parramore published an article on AlterNet.org on 10 March 2014, titled "3 Things That Make Libertarian Heads Explode." Those three things are:

1) The Inequality Problem. Under unregulated or "free-market" capitalism, all of the wealth seems to concentrate itself upwards. The United States is now number four in the world in terms of income inequality, of the 141 largest countries in the world, behind only the Russian Federation, Ukraine, and Lebanon. Ms. Parramore describes the reality of the system under which American wealth is actually garnered:

Honoré Balzac's observation, that behind every great fortune lies a great crime, has become an incontrovertible fact in America over the last forty years. Only the inheritors of great wealth seem to not have made their fortune built on fraud, illegal monetary transactions, manipulation of the financial markets to their own advantage, collusion, and outright theft. To quote Ms. Parramore, "Fraud has grown so pervasive in corporate America that Jim Chanos describes a culture in which executives think they have a fiduciary duty to cheat; since everybody else is cheating, they owe it to shareholders to cheat to stay competitive!"

Ms. Parramore goes on to point out that when libertarians speak of cronyism, it is all about government favors, something that could not happen in their free-market utopia. They forget that cronyism is rampant when CEOs and their boards collude to award themselves insane salaries and benefits; as well as when two or more banks or corporations collude to fix interest rates, prices, or otherwise arrange things to drive their competition out of business. That sort of collusion is every bit as much a form of cronyism as anything done through the government. John D. Rockefeller, Sr., became a billionaire through sweetheart deals with the railroads; Bill Gates became a billionaire by making his MS-DOS and Windows systems available to the public to program with, instead of making it proprietary the way that Apple did with its operating systems. Gates then used the market's easy access and use of Microsoft's MS-DOS and Windows operating systems to undercut and eliminate his competition in word-processing, spreadsheet, and related software.

Quoting once more from Ms. Parramore's article, "The Washington Times' Timothy Carney danced around the cronyism issue recently by claiming that since most people get rich 'through market means' and that their wealth accumulation doesn't hurt economic growth."

"First, what exactly does 'market means' mean? Clearly, plenty of inequality comes right out of market forces, such as the flow of markets into areas where wages are low."

"Secondly, as economists have begun to look at the issue of income inequality, they are finding that it does hurt economic growth [as] Paul Krugman recently pointed out in the New York Times, the evidence [including] two landmark studies by the IMF, and one by Barry Cynamon and Steven Fazzari at the Institute of New Economic Thinking, shows that reducing inequality in America would probably increase economic growth; if America would adopt tax and transfer policies more like Europe's, we might well have more economic growth.

"Let's not even get started on how inequality turns us into a class-ridden, Downton Abbey-style society, how it undermines democracy by allowing corporate and billionaire dollars to dominate the political system, or how it makes people physically and mentally sick. Inequality is a scourge on society, and libertarians can't deal with it." [Emphasis added]

2) The Public Goods Problem. A purely market-based system is great for providing the needs or desires for individuals or small groups, like automobiles, washer/dryers, personal computers, or water-saving toilets. They are not good for providing the roads, electric-power grid, Internet, or sewer system that makes these conveniences usable. Nor does the market prove adequately for the necessities of those on the lower end of the economic spectrum, as the lack of supermarkets in the poorest sections of many of our larger metropolitan areas demonstrates beyond any doubt. Nor do market forces work for providing public transportation, affordable child-care, police and fire protection, reasonably-priced health care, street-lights or traffic-control devices, national defense, or protection from fr aud, injury, and exploitation by the wealthy against the poorest among us.
In other words, the market makes most of what we take for granted today available only to the wealthiest Americans, and gives the short shrift to the rest of us. If you want to see how this works in real-life, take a look at the problems that Colorado Springs, Colorado, is having with its street lights, parks, roads and other public goods, with a libertarian-influenced city council and county commission running the show.

3) The Regulation Problem. One of the assumptions that Libertarians make is that markets are, by their very nature, competitive. Because of this assumption of competitiveness, Libertarians are against the regulation of businesses, believing that it is the intrusion of government on market forces that causes all of the problems, e.g., oligopolies, making sub-standard products, etc.

If they actually believe this, it is proof that Libertarians are the people who fell asleep during American history and psychology class in high school. Quoting from Ms. Parramore's article again:

"The libertarian will say that oligopolies are the fault of government intervention; there are plenty of examples to refute this. If you look at history, even when governments have been quite limited [serving] as little more night watchmen, you'll find big, nasty oligopolies, like the 19th-century [Cornelius Vanderbilt's] railroads, [John D. Rockefeller's Standard Oil,] or [Andrew Carnegie's U.S. S]teel. Today, we find computer-operating systems (think Netscape and Microsoft) as examples of oligopolistic conditions."

(Note: You can view every article as one long page if you sign up as an Advocate Member, or higher).