One Billion Rising Logo

(

Image

by

onebillionrising.org

)

Details DMCA


ONE IN THREE WOMEN ON THE PLANET WILL BE RAPED OR BEATEN IN HER LIFETIME.
ONE BILLION WOMEN VIOLATED IS AN ATROCITY
ONE BILLION WOMEN DANCING IS A REVOLUTION
- http://www.vday.org



V-Day, the global activist movement to end violence against women and girls, announced the final escalation of its year-long "One Billion Rising" campaign, according to vday.org's press release. On Thursday, February 14, women and men around the world

"will come together in the largest day of mass action ever to stop violence against women and girls, to express their outrage, and to strike, dance and RISE to support an end to violence against women once and for all."

"February 14, 2013 will change the world not because it is a day of magic, although there are indeed mystical elements surrounding this campaign. It will change the world because the preparation for it and organizing for it has already created an energetic wind or wave igniting existing efforts to end violence against women and create new ones,"

said V-Day Founder and award winning playwright Eve Ensler.

"It has brought together coalitions of groups and individuals that have never worked together before; brought in all kinds of new people and groups and associations and masses of men who are not aware of the issue but are now working on it; brought violence against women, through our numbers and efforts to the center of the discussion.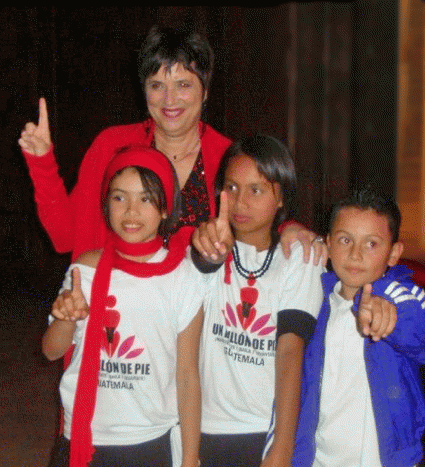 Eve Ensler with girls and boy rising in Guatemala
(
Image
by
Photo credit onebillionrising.org
)
Details
DMCA
On February 14, we are rising together because it is in our connectedness, in our stomping feet and uncontrollable hips that the path and energy will be created to bring in a new world. We will galvanize the will and the passion of everyone rising around the world to create change."
ONe Billion Rising film still.
(
Image
by
Photo credit Tony Stroebel
)
Details
DMCA
Events are being live streamed throughout the entire worldwide event at
http://www.onebillionrising.org
One Billion Rising event in Republic of Congo
(
Image
by
Photo credit Paula Allen for V-Day
)
Details
DMCA
13,000 organizations in 206 countries around the world are participating.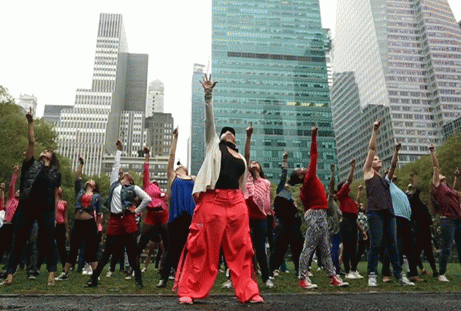 Break the Chain movie still.
(
Image
by
Photo credit Tony Stroebel
)
Details
DMCA

2:14 A Moment of Solidarity
Those who wish to participate are invited to take a moment at 2:14pm (14:14) in local time zones to join together with colleagues, family members, and friends, "and leave your workplaces, schools, and homes to be together as one. With the earth beneath you raise your hand in the air if you can for one minute. Stop everything, look around, and know you are a part of a worldwide movement of millions of people all standing together in solidarity to end violence against women and girls."



Worldwide Events
20,000 women and men in Ahmedabad, India will hold a public dance.
In Soweto, South Africa, teen girls will lead a flash mob for thousands on the famed Vilakazi Street.
In addition to events planned on all 7000 islands of the Philippines, the mayor's office in Quezon City will close 15 blocks for a 24 hour long dance concert and rally.
There will be a dance rally on the steps of Parliament in London.
The United Nations will observe One Billion Rising at UN Headquarters in New York City


National Flash Mob Events
(See website for updated info
click here
)
DC, 17th & K Sts, 12 noon.
Philadelphia, PA, 1720 Mount Vernon St, 10 am
NYC, Columbus Circle, 59th St and Central Park West, 12:30 pm
NYC, Times Square, 2 pm (hosted by MTV)
Santa Monica, CA , 2901 Ocean Park Blvd, 9 am
Convent of the Sacred Heart High School San Francisco, 8 am
University of Utah - J Willard Marriott Library (Salt Lake City, UT) 1 pm
L.I.V.E (Latinas Inspiring Vision and Excellence) flash mob at American Airlines Center (Dallas, TX). 6:30 pm
Santa Monica, CA, Third Street Promenade, 4:30 pm
Stunning San Francisco flash mob video - do not miss this gem:
The V-Day campaign began 15 years ago.