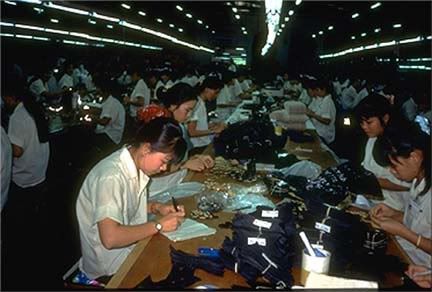 (source)



Global Sweatshop Wage Slavery - by Stephen Lendman

- Advertisement -

In its mission statement, the National Labor Committee (NLC) highlights the problem stating:

"Transnational corporations (TNCs) now roam the world to find the cheapest and most vulnerable workers." They're mostly young women in poor countries like China, India, Bangladesh, Vietnam, Indonesia, Nicaragua, Haiti, and many others working up to 14 or more hours a day for sub-poverty wages under horrific conditions.

Because TNCs are unaccountable, a dehumanized global workforce is ruthlessly exploited, denied their civil liberties, a living wage, and the right to work in dignity in healthy safe environments. NLC conducts "popular campaigns based on (its) original research to promote worker rights and pressure companies to end human and labor abuses. (It) views worker rights in the global economy as indivisible and inalienable human rights and (believes) now is the time to secure them for all on the planet."

Article 23 of the Universal Declaration of Human Rights states:

"(1) Everyone has the right to work, to free choice of employment, to just and favourable conditions of work and to protection against unemployment.

(2) Everyone, without any discrimination, has the right to equal pay for equal work.

(3) Everyone who works has the right to just and favourable remuneration ensuring for himself and his family an existence worthy of human dignity, and supplemented, if necessary, by other means of social protection.

(4) Everyone has the right to form and to join trade unions for the protection of his interests."

Article 24 states:

"Everyone has the right to rest and leisure, including reasonable limitation of working hours and periodic holidays with pay."

Definition of a Sweatshop

The term has been around since the 19th century.

Definitions vary but essentially refer to workplaces where employees work for poor pay, few or no benefits, in unsafe, unfavorable, harsh, and/or hazardous environments, are treated inhumanely by employers, and are prevented from organizing for redress.

The term itself refers to the technique of "sweating" the maximum profit from each worker, a practice that thrived in the late 19th century.