Several of OEN Editor-in-Chief Rob Kall's quotations have really inspired me--this one apparently also inspired others, it has been tweeted thousands of times:



So I made myself a poster of it. (Can you find the brain and eyes hidden in the image?) And then a little foldable notecard. And then I made black and white versions, for those times when I run out of color ink!



And then I thought -- I could share them! So here they are, instant karma, a gift for OEN readers who make a contribution.

Once you make a donation or sign up for premium membership you'll receive an email with a code to download all four of these pdfs, to use however you like.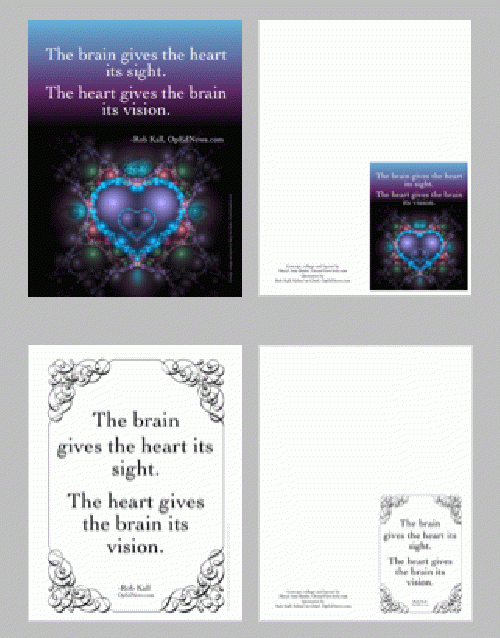 Pdf gifts in color and black and white
(
Image
by Collage and layout by Meryl Ann Butler for OpEdNews)
Details
DMCA
The posters can be printed and framed in an 8" x 11" dollar-store certificate frame for last-minute gifting. Print and fold the cards for your own notes, or tie up a little bundle with envelopes for a gift! Further instructions are below.

Enjoy the holiday season!
Love,
Meryl Ann
Managing Editor, OpEdNews
PRINTING AND FRAMING INSTRUCTIONS:

With your contribution to OpEdNews, you receive links to pdfs with four printable gifts:

1. A full color poster and a foldable, full color notecard

2. A black and white poster and a foldable, black and white notecard

You also receive permission to print out as many posters or notecards as you like. Feel free to use them yourself or give as gifts. (Note: the black and white posters and notecards can be printed on color paper, if desired.)