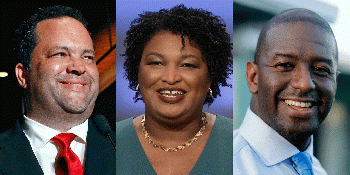 Change Is Gonna Come
(
Image
by
harfobama.wordpress.com
)
Details
DMCA
The infamously tainted elections in Georgia and Florida MUST be re-done while the whole world watches.
These elections have been run by candidates who are running in them. There's no reason to have any confidence in any outcome.
There's just one solution: New Elections. This time supervised by the United Nations, or some other neutral international body, under intense global scrutiny.
Recent elections in Austria and Ukraine have been re-done, with revised outcomes.
This year in Georgia, the voting was managed by Secretary of State Brian Kemp, a candidate for governor. Kemp infamously locked up more than 50,000 ballot applications, most of them from African-Americans, who were thereby denied their right to vote. Amidst a firestorm of corruption charges, Kemp resigned as secretary of state but is declaring himself governor.
Florida's race is controlled by Governor Rick Scott, candidate for US Senate. He's also declared himself the winner.
Both states featured (as usual) massive foul-ups in precincts mostly populated by African-Americans, effectively denying thousands of them their right to vote.
In Broward County, Florida, and other counties in both states, machine foul-ups mock fair and efficient re-counts. Innumerable ballots are being trashed because of missed submission deadlines ... in one case by two minutes. Ballots may also be voided because of a post office that was shut after pipe bombs were mailed by a Trump supporter.
This is nothing new. In Florida 2000, the presidency was decided by Governor Jeb Bush, brother of the Republican candidate, George W. Bush. Both were sons of George H.W. Bush, who as head of the Central Intelligence Agency manipulated similar elections throughout the Third World.
Ohio 2004's election was run by Secretary of State J. Kenneth Blackwell, chair of the state Committee to Re-elect Bush-Cheney. Blackwell was visited on election day by George W. Bush and his chief adviser, Karl Rove, who had important business with him. Blackwell then oversaw the late-night flip of an apparent Kerry victory into one for Bush.
Florida 2000 and Ohio 2004 both saw massive voter roll stripping and electronic vote-count flipping. Democratic candidates Al Gore and John Kerry have STILL said nothing about the dual thefts. Likewise, Hillary Clinton handed the presidency to Donald Trump while ignoring decisive registration stripping and tally flipping in Michigan, Wisconsin, and elsewhere.
But this year, Georgia gubernatorial candidate Stacey Abrams has made history by refusing to concede. She's loudly protested the obvious mass disenfranchisement of more than enough Georgia voters to win her the statehouse, as well as very dubious vote flipping in key districts.
Florida gubernatorial candidate Andre Gillum did concede, then recanted. In both states, the lawsuits are piling up.
No matter what happens, there's no reason to believe the outcome of either election. Very important powers for redistricting will come with both governor's chairs.
(Note: You can view every article as one long page if you sign up as an Advocate Member, or higher).