Reprinted from Wallwritings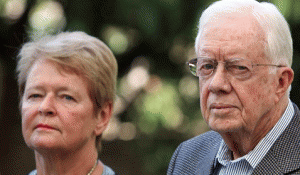 (
Image
by
The Elders
)
Details
DMCA
>
Former President of the United States Jimmy Carter and Gro Harlem Brundtland, former Prime Minister of Norway, concluded their trip to Israel and Palestine with a statement calling for "meaningful steps to stop the humanitarian crisis in Gaza and reconcile the different Palestinian factions."
The statement, released by the Elders' media office, said Carter and Brundtland "regretted that they were unable to go to Gaza on this visit but expect to have future opportunities to travel there, to witness the situation firsthand."
The two Elders said they remain convinced that "only a two-state solution can bring a just and lasting peace for both Israelis and Palestinians."
Carter and Brandtland are two of The Elders, "independent global leaders, brought together by Nelson Mandela, who offer their collective influence and experience to support peace building, help address major causes of human suffering and promote the shared interests of humanity."
In her statement following the visit, Brundtland, who is currently the Deputy Chair of The Elders, said:
"We came here to visit Gaza, the West Bank and Israel. As you know, we were unable to go to Gaza. We deeply regret not having had the opportunity, on this occasion, to see the situation there at first hand.

"However, over the past three days we have received comprehensive briefings from many independent experts, including Israelis and Palestinians and the UNRWA Commissioner-General, which unfortunately have confirmed our worst expectations.

"The situation in Gaza is unsustainable and intolerable. A complete paradigm shift is essential. This shift demands the lifting of the siege. It also requires an end to Israel's policy of separating the West Bank and Gaza.

"It demands freedom of access for goods, not least the large amounts of reconstruction material that are so badly needed,

"It demands freedom for Gaza to export -- to the West Bank, Israel and the rest of the world -- so that its economy can be revitalised.

"It demands freedom of movement for people, so that families can be united, students can study in the West Bank or abroad, and patients can receive the medical care they need.

"In short, all the aspects of normal life that people in our own two countries, and in Israel, take for granted.

"Without this paradigm shift, which most of the world recognises as vital, we fear that further conflict is inevitable."
In his separate statement, Carter added that "reconciliation between [the Palestinian parties] Fatah and Hamas, and the full establishment of the government of National Consensus in Gaza, is vital to end further suffering."
(Note: You can view every article as one long page if you sign up as an Advocate Member, or higher).