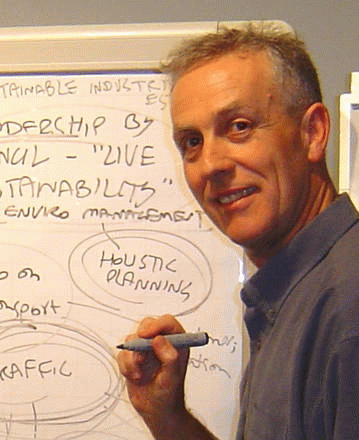 Les Robinson

(

Image

by

Les Robinson

)

Details DMCA




A major movement is arising in which we are changing how we make decisions. Up until now, our predominant decision-making process has been highly top-down, with the ultimate being the 99% of people being under the sway and governance of the 1%. This elite percent has been exposed as containing individuals and families who are the brains of corporations and banks. It is they that ultimately control governments and our lives--if we buy into their systems. In many ways, ours is a more feudal society with landowners (bankers and corporations) controlling the government and thus the people of a given state or country. We are neither free-market nor socialist.




Indeed, these are meaningless terms in Nature's economy, for as per the Gaia Hypothesis, everything exists in relationship to everything else. All beings--including us both as individuals and as a species--co-evolved in context of all other beings. Our life supports and, correspondingly, is supported by all other life. When we become--as we apparently, temporarily have--a dis-ease (out of harmony and balance) within our ecological body, then the immune system of Nature will attack us to defend the health of the all-in-All.




There is no ultimate hierarchy in Nature. There is not even a clear hierarchy between eater and eaten, for even the most ferocious of creatures, such as the Great White Shark, can become the food and fodder for microorganisms that devours it from the inside out. Hierarchy appears in the short run in Nature; otherwise we wouldn't find it in human civilizations. But, it does not appear to be the primary or long-run way Nature operates. Yes, even the Bushes will die and decay into dust, just like the rest of us. Empires rise and fall like waves upon the ocean or like storms upon the earth. One species may temporarily invade and overrun an ecosystem. (Just look at us now!) Yet in the grand scheme of life and love, we all serve the All of which we are an integral part. The "fittest" who will ultimately survive, thrive, and evolve are those who fit best in the interactive life of the Whole.




One of the decision making processes that contrast with our currently dominant top-down management model in human culture is consensus. Another more bottom up method of decision making is exhibited in Les Robinson's Changeology. This book is about designing effective change projects. Les has worked on citizen campaigns in Australia against sand mining, freeways, landfills, and Sydney's only waste incinerator which sparked his interest in social change. He is now a full time change facilitator, working with government agencies and councils and managing his own business, Enabling Change , and website, http://www.enablingchange.com.au.




CHANGEOLOGY simplifies a vast body of theory and practice into six principles:

*buzz --connecting to a concern that is currently in the conversations of the community

*hope--an enhanced perception that the proposed change is do-able, inspiring, and beneficial

*enabling environments--an ecology, economy, and ethic that would nurture the change

*sticky solutions--change that will enhance people's autonomy, time, and self-esteem

*can do--a team of inspired people who will support and applaud each person's contribution

*the right inviter--a spokesperson who is already respected and trusted in the community

Les advocates having a Brain s Trust behind your change project , with emphasis on the plural to engage a wide diversity of views and experiences . The brain-child of an isolated philanthropist is likely to be biased and threatening to all but a small portion of the involved community. Overall, people resist change until they understand what's going on, feel invited (not coerced) to participate, and can enhance their sense of self-esteem and efficacy by identifying with one or another person in the Brains Trust promoting the change.

(Note: You can view every article as one long page if you sign up as an Advocate Member, or higher).