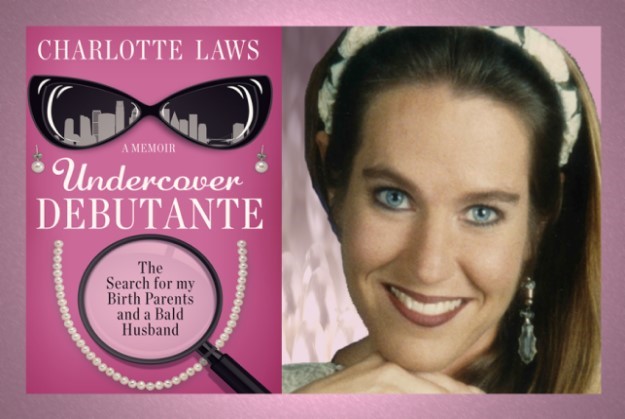 Charlotte Laws and Undercover Debutante
(
Image
by
Charlotte Laws
)
Details
DMCA
Charlotte Laws is a TV star, former politician, and internationally-renowned women's rights activist, often called the "Erin Brockovich of revenge porn" for taking down "the most hated man on the Internet" who was hacking nude photos and posting them online. Charlotte is also a vegan, known for her dedication to the animal-rights cause and to the LGBTQ community. Her memoir, Undercover Debutante: The Search for My Birth Parents and a Bald Husband (Stroud House, 2019), is a bestseller and won a Publisher's Weekly award. I am delighted to have this opportunity to interview Charlotte about her life and the book.
Welcome, Charlotte. Your life is fascinating. It seems like you've done just about everything from working as a bodyguard for a prostitute to lecturing at the FBI Academy. You've been a cab driver, a stand-up comic, the president of a legal corporation, a private investigator, an Emmy-nominated TV personality, and a politician. You were even a stripper.
Charlotte: I was a conservative stripper (laughter). In fact, I was constantly reprimanded by the club owner for wearing thick tights and a one-piece leotard. I looked like an ad for kiddie ballet.
Yes (laughter). And you were stalked by strip-club customer one night. This was an alarming situation that turned into a high-speed chase.
Charlotte: Unfortunately, it's the only time I got to be Bruce Willis (laughter).
It seems like you've been Bruce Willis on a number of occasions. You've survived some scary situations. A rapist tried to strangle you, an attempted murderer showed up at your house while fleeing the cops, and a gunman broke down your front door in the middle of the night. Did you learn anything from these brushes with death?
Charlotte: I learned that I rely on my brain to finagle out of dangerous situations. I am five feet tall so I can't count on physical strength. My only hope is my brain. But I don't mean intelligence. In fact, I've always felt intellectually inadequate. What I'm talking about is "smart talent." That's the name I gave it as a child. Smart talent is the ability to see outside the box, to come up with unusual solutions, to dodge the rule book. I tried to outsmart those criminals. I used psychological warfare against them. Smart talent also came in handy when working as a private eye and sneaking past Secret Service to interview the president. It helped me evade security so I could meet Tom Jones and begin a relationship with him. It made it possible for me to track down my birth family. Smart talent even helped me contrive a scheme to get my commitment-phobic boyfriend to marry me. We've been together now for 25 years.
Those are provocative topics, which are linked with fascinating stories in your book, and I wish I had time to delve into each of them. But I'd like to focus on one very dangerous situation. It was dangerous because it was illegal. You could have been arrested, possibly even prosecuted as a terrorist.
Charlotte: You are referring to the infamous pigeon heist (laughter). Law enforcement had locked pigeons in a building to starve, suffer, and die. In fact, they'd intentionally killed over 200 animals with lethal injections at this very location. They boarded up the windows, padlocked the doors, and made it clear that anyone who went inside would be arrested. As animal advocates, a group of us felt it was our duty to save the pigeons, so we planned a midnight rescue. None of my accomplices had ever before committed a crime. An elderly lawyer did the actual break-in. A UCLA professor drove the getaway car. Other conspirators included a city councilmember, a deputy from the mayor's office, two lawyers from the city attorney's office, and a famous newspaper reporter. There were so many bigwigs involved with this heist; it would have sent shockwaves if we'd been caught.
The interesting thing is that our crime was possibly more than a crime. It was a potentially a terrorist act due to an absurd federal law called the Animal Enterprise Terrorism Act, which can turn infractions into domestic terrorism. This law (which needs to be abolished) was passed to protect corporations that torture and kill animals; it essentially states that if you commit an illegal act against a so-called "animal enterprise," you can be prosecuted as a domestic terrorist. We were unsure whether our crime qualified under the definition, but we were certain law enforcement had a lot of discretion. Suffice to say, the caper was a success. We saved the pigeons and never got caught.
(Note: You can view every article as one long page if you sign up as an Advocate Member, or higher).