From the Florida Keys to Sarasota, it's been a terrible time for Florida's wildlife. The extreme cold that has most of the nation in the deep freeze has filtered down into the Sunshine State where unusually cold water temperatures are injuring and killing thousands of animals statewide, including at least 2,000 sea turtles and uncounted fish. When the water gets too cold, the turtles suffer from a condition known as "cold-stunning." Warm water game fish are also taking a big hit. The fact that fish and turtles are cold-blooded animals means that their internal body temperature changes as the surrounding temperature changes.
Image taken by Dr. Richard Bartleson of the Sanibel-Captiva Conservation Foundation at the Sanibel boat ramp. Species include gulf menhaden, scaled sardine, cowfish, filefish, moharra, penfish, ladyfish, catfish, mullet, pompano, tarpon, spadefish, triggerfish, tripletail, ocellated moray, mangrove snapper, silversides, grunt, and snook.
The St. Petersburg Times reported an absolute "decimation" of the game fish population with recent record-breaking cold temperatures.
It's happening across Florida, said Ron Taylor, a Florida Fish and Wildlife scientist. The dead count is likely to multiply as the water continues to warm, allowing decomposing fish to float.

Taylor specializes in snook, which he said have taken a huge hit across the Gulf Coast in the recent cold snap. He said most tropical-weather fish can't survive water below about 45 to 50 degrees.

"Several thousand are reported dead, and hundreds of thousands are in some state of stupor," Taylor said. When the sun comes up, those hanging on to life would likely be revived, he said.
Turtles rely upon the environment to regulate their body temperatures. When the water gets too cold, their body systems shut down.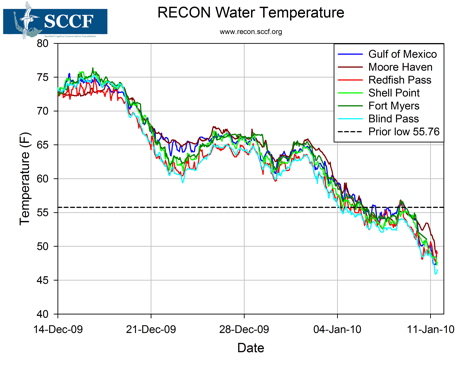 Image: Graph made by scientist AJ Martignette of the SCCF Marine Laboratory on Sanibel Island, FL. It shows water temperatures for the past month and the previous low temperature recorded by the RECON instrument. The previous low is the lowest temperature recorded by RECON since its establishment in June 2007. The water temperatures may have gotten colder at some point in the past. There is more information about RECON on the website.
Sanibel, a barrier island located off the coast of Fort Myers in southwest Florida, has been established as an animal sanctuary and treats all of its wildlife with care. The world- renowned rehabilitation clinic, CROW, is located here and by 7 am Wednesday morning (January 12) the rehabilitation center had 2 Kemps Ridley, 4 Green, and 1 Hawksbill turtles as patients. The Green and Kemp's Ridley turtles are endangered and are found in the waters around Sanibel, though they are not known to nest on the island like the Loggerhead turtle. The Florida Fish and Wildlife Research Institute reports that 90 percent of the turtle casualties thus far have been Green sea turtles. By evening, CROW would add three more green turtles to its patient load.
The way to "fix" the turtles is to remove them from the cold water, warm the turtles' body temperature, and eventually release them into the wild after water temperatures normalize.
Dr. PJ Deitschel, Clinic Director and Staff Veterinarian at CROW, has been a wildlife rehabilitator for 25 years, caring for over 50,000 wild animals representing more than 200 different species. She told us that this year has presented an immediate set of challenges, but they are challenges Dr. Deitschel feels confident about handling.
The most important message for the public to hear is that we need to get the stressed animals into the facility. Cold-stunning must be identified and managed quickly. If you are on Sanibel or in the surrounding waters and see an animal in distress, we want to know about it. People should also be aware that the cold is taking its toll on other wildlife besides marine animals. We are 30 patients over where we were at this time last year. Of course, the turtles require special management because we cannot warm them more than 5 to 8 degrees per day. This means that they must be housed in separate rooms, depending upon when they arrived at the clinic.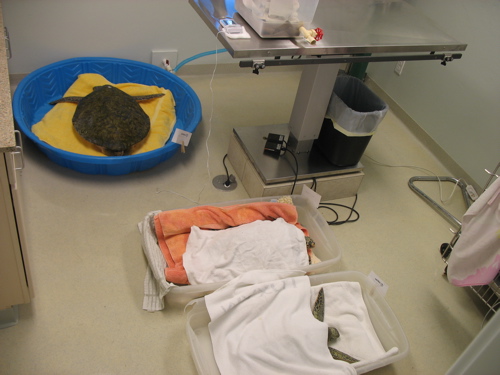 IMAGE Series: Cold-stun rehabilitation at CROW. Since 1968, more than 43,000 wildlife patients, representing 200+ species have been treated at CROW over its 36-year history. First image is a Hawksbill.

It is difficult with a few photos to put the numbers of distressed fish and wildlife into perspective, but the interaction of one man with one turtle provided us with a sense of the bond between humanity and nature in extreme conditions.
We met self-described "island guy" and "ramp hand" Charlie Frese as he was standing near the kayak ramp at Tarpon Bay Explorers and Outfitters. Keen eyes were scanning the water. There was something out there that did not look right--a ripple on the surface that was out of place. Experienced eyes saw something shiny and then an object that "looked like a tiny hand" breached the surface of the water. It was the flipper of a young Green turtle, obviously in distress from waters that were at an "official" 47 degrees F, when 55 can mean trouble for sea life. The young Green's exposure to cold water had induced cold-stunning. It was lethargic and floating on the surface of the bay waters.
(Note: You can view every article as one long page if you sign up as an Advocate Member, or higher).