Source: Mike Malloy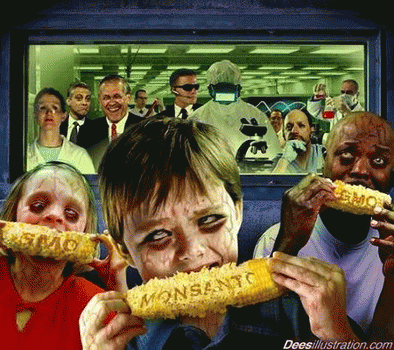 Frankenfoods are out to get you
(
Image
by
Dees Illustrations
)
Details
DMCA
Monsanto Foods, the mega-corp that wants us all to eat genetically modified corn, spliced with pig genes (among other delicacies) has been handed a big victory by the Supreme Court this week. The Supremes refused to even hear the complaints of non-GMO farmers about the bad practices of Monsanto, which include bullying tactics that would make Chris Christie jealous.
These farmers have no way to be compensated for their contaminated crops, or challenge the unfair practice of seed patenting. The Ecologist has more:
"The US Supreme Court has issued a decision in the landmark federal lawsuit, Organic Seed Growers and Trade Association et al v. Monsanto.

"Farmers were denied the right to argue their case in court and gain protection from potential abuse by the agrichemical and genetic engineering giant, Monsanto.

"The decision also dashes the hopes of family farmers who sought the opportunity to prove in court that Monsanto's genetically engineered seed patents are invalid.

"Safeguards 'insufficient'

"'The Supreme Court failed to grasp the extreme predicament family farmers find themselves in,' said Maine organic seed farmer Jim Gerritsen, President of lead plaintiff OSGATA.

"'The Court of Appeals agreed our case had merit. However, the safeguards they ordered are insufficient to protect our farms and our families.

"'This high court which gave corporations the ability to patent life forms in 1980, and under Citizens United in 2010 gave corporations the power to buy their way to election victories, has now in 2014 denied farmers the basic right of protecting themselves from the notorious patent bully Monsanto.'"

1 million citizens and 25% of organic farmers ...

The historic lawsuit was filed in 2011 in Federal District Court in Manhattan. The large plaintiff group numbers 83 individual American and Canadian family farmers, independent seed companies and agricultural organizations whose combined memberships total over 1 million citizens, including many non-GMO farmers and over 25% of North America's certified organic farmers.

"'The Appellate Court decision could leave Canadian farmers out in the cold because their protection may not extend to Canada at all,' said Saskatchewan organic grain farmer Arnold Taylor, a member of plaintiff member Canadian Organic Growers (COG).

"'Like many Canadian farmers, we sell crop into the United States and can therefore be liable to claims of patent infringement by Monsanto.'

"In a complicated ruling issued in June 2013 by the US Court of Appeals for the Federal Circuit in Washington DC, American farmers were handed a partial victory when the three justices agreed with the farmers' assertion that contamination by Monsanto was inevitable.

"The justices ordered Monsanto not to sue American farmers whose fields were contaminated with trace amounts of patented material, which the Court defined as 1%.

"Meanwhile in Canada
(Note: You can view every article as one long page if you sign up as an Advocate Member, or higher).