Reprinted from www.dailykos.com by Cassiodorus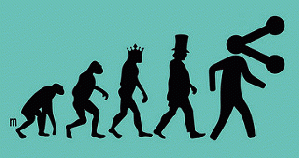 Evolution, Continued: The Rise of Post-Capitalism Man (& Woman)
(
Image
by
JoeInSouthernCA
)
Details
DMCA
You know, postcapitalism -- the coming period of existence after the capitalist system has run its course, after Bernie Sanders' "political revolution" has outstripped Sanders' current promises, and brought us to a world in which we can actually do something about our situation without dragging around the profits system like a giant millstone?
Throughout history, people did things because "society" (which usually meant the elites or other gatekeepers) demanded it. Capitalism didn't change this pattern. The end of capitalism will be another chance, taken or not, to bring into being a society in which people do things for the actual reasons they needed to be done. So, with postcapitalism:
1) Medical law will be about health, not profit. Remember Martin Shkreli? The most alarming thing to consider about his guy is that he's just a symptom of patent law. Presumably medicines are created to save lives -- and after capitalism is finished, maybe they can do that.
On a larger scale, of course, the bias of medical law toward profit shows up as the ACA -- a bill which offers a few benefits to a few people, lowering the uninsured rate about 40% while at the same time insurance remains a gamble. The law was of course written to avoid the bad outcome predicted in John Geyman's 2009 book Do Not Resuscitate -- a book which predicted that the insurance gatekeepers industry was pricing health care out of affordability and that the whole system would at some point suffer a crash. The ACA was, of course, the Band-Aid which postponed that outcome.
Postcapitalist health care will, of course, be about healing, not about making money. Single-payer, as promised by candidate Sanders, will go a long way toward that end -- but even with single-payer (such as we can see with recent "reform" to Medicare) there will be profit-seeking vultures looking to carve money out of the system at the expense of the general health.
(Note: You can view every article as one long page if you sign up as an Advocate Member, or higher).