Sanibel Island's Gulf waters have rebounded from a chilly 47 degrees recorded during last week's unprecedented cold snap that decimated fish populations and threatened to do the same to endangered species of sea turtles in Florida. The Sanibel-Captiva Marine Laboratory River, Estuary and Coastal Observing Network (RECON) recorded water temperature measurements ranging from 59 to 63 degrees Fahrenheit on January 20.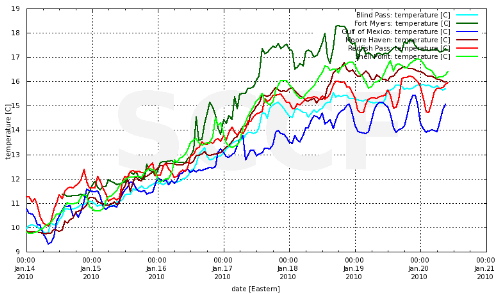 RECON is composed of seven Land/Ocean Biogeochemical Observatory (LOBO) sensors and one mobile unit. In addition to temperature readings, the system measures salinity, current velocity, and nutrient loads.
This is good news for rescued sea turtles that are being released this week, but tropical gamefish did not fare as well. An early morning walk on Sanibel's beaches today indicated the cleanup is far from complete and the toll was heavy. Estimates range from 40,000 fish lost on the Gulf Coast to 13,000 on the Atlantic.
The fish kill was so widespread that the Florida Fish and Wildlife Commission (FWC) issued an executive order on Jan. 15 that temporarily extends closed harvest seasons for snook statewide. In addition FWC established a temporary statewide closed harvest season for bonefish and tarpon. Catch-and-release fishing for these tropical game fish species is still allowed.
There is concern that catch and release does not always ensure the survival of the fish, so FWC has posted information regarding proper handling and release of fish online.
The FWC appreciates angler support for taking conservation measures that will help protect saltwater fish and provide time for the FWC to evaluate the possible impacts to fish populations that may have occurred because of the recent prolonged cold weather in Florida.

The order, which took effect at 12:01 a.m. on Jan. 16, provides that no person may harvest or possess snook in state and federal waters off Florida until September and establishes a temporary prohibition on the harvest and possession of bonefish and tarpon from state and federal waters off Florida through March 31.
Although many cold-stunned sea turtles were found in distress as they migrated into shallow coastal waters and onto shorelines across Florida, organizations such as Sanibel's CROW saved many from certain death. Left in distress, the turtles would have been easy marks for predators, boat propellers, or would have drowned. The estimate by FWC biologists indicates that nearly 80 percent of rescued sea turtles have been released thus far.
The majority of the sea turtles affected by the cold weather are green turtles, a federally listed endangered species. Other species include Kemp's Ridley and hawksbill, both endangered, and the loggerhead, a threatened species. Scientists will use genetic information obtained from the turtles to better understand where these turtles originally hatched.

Biologists also will collect valuable information on size, geographic distribution, health status and other factors. Tags on released turtles will provide biologists with useful information for years to come, including where they travel and their rate of survival.

The sea turtles were taken to staging areas, where biologists assessed their conditions. Metal tags were placed on the sea turtles' front flippers and various data were obtained. From there, the sea turtles were either transported to rehabilitation facilities or returned to the sea if they were healthy and water conditions were suitable.
Veterinarian Dr. PJ Deitschel of Sanibel Island's CROW reports that all of their turtles were released successfully except for two Green turtles which have some buoyancy issues. However, "the prognosis is great," for their recovery, Deitschel said.
The world renowned CROW Wildlife Clinic is a non-profit organization and has been featured on Animal Planet and Martha Stewart Living. The primary mission of CROW is the rescue, care, rehabilitation and eventual release back to the wild of sick, injured and orphaned native wildlife.
Under the direction of Dr. Deitschel, CROW's staff provides high quality medical care to more than 4000 patients annually, representing over 160 different wildlife species. The medical care incorporates both western and eastern modalities such as surgery, acupuncture, proper nutrition, herbal supplements and physical therapy.
There are some cold-stressed turtles now swimming in the warm Gulf waters that would not be alive today, were it not for the dedicated clinic staff.
Here are photos of today's transport and release--a happy ending after a serious weather event--provided by Dr. Deitschel.