Source: Truthdig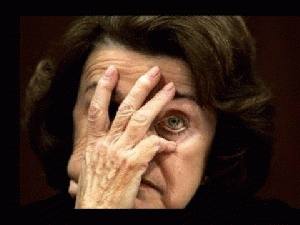 It was a truly historic moment Tuesday when Senate Intelligence Committee Chair Dianne Feinstein took to the Senate floor to warn that the CIA's continuing cover-up of its torture program is threatening our constitutional division of power. By blatantly concealing what Feinstein condemned as "the horrible details of a CIA program that never, never, never should have existed," the spy agency now acts as a power unto itself, and the agency's outrages have finally aroused the senator's umbrage.
As Sen. Patrick J. Leahy, chair of the Judiciary Committee that will be investigating Feinstein's charges noted, "in 40 years here, it was one of the best speeches I'd ever heard and one of the most important." That was particularly so, given that Feinstein's searing indictment of the CIA's decade-long subversion of congressional oversight of its torture program comes from a senator who previously has worked overtime to justify the subversion of democratic governance by the CIA and other spy agencies.
But clearly the lady has by now had enough, given the CIA's recent hacking of her Senate committee's computers in an effort to suppress a key piece of evidence supporting the veracity of the committee's completed but still not released 6,300-page study that the CIA is bent on suppressing.
The Senate's investigation began in earnest with the Dec. 7, 2007, revelation in The New York Times that the CIA had destroyed videotapes of its "enhanced interrogation techniques," despite objections from then-President Bush's director of national security and the White House counsel. At that time, then-committee chair Jay Rockefeller, D-W.Va., sent staffers to begin the painstaking process of reviewing the limited material that the CIA was willing to make available; their preliminary report wasn't issued until early 2009.
By then, Feinstein had assumed the chairmanship and, as she recalled in her Tuesday speech, "The resulting staff report was chilling. The interrogations and the conditions of confinement at the CIA detention sites were far different and far more harsh than the way the CIA had described them to us."
Feinstein, ostensibly backed by new President Barack Obama, who had campaigned as an opponent of the CIA's methods, obtained the committee's bipartisan backing for an expanded investigation. But the CIA, led at the time by Obama appointee Leon Panetta, the former Democratic congressman, put numerous logistical obstacles in the way of the Senate investigation.