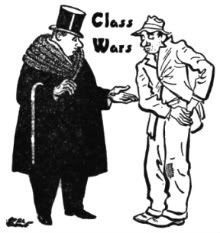 Triumph of the Money Party
Do you know what the "public option" does or who it covers? If you've had trouble finding out, it's not your fault. Reading corporate media coverage provides little or no clue. It's hardly ever defined. There's a very good reason for the lack of clarity and definition. But first, a brief summary of the public debate that characterizes just about every public debate we have on critical issues.
If you think that the current version of the public option will provide a choice for a government administered health program, you're right. If you think that this option was designed for the general public, then you're wrong. It will apply to only some uninsured, possibly as few as six million citizens. It's a kind of public option.
But, if you support true choice by the public, then you probably expect this as an option: a single payer system for health care -- one source of payment for doctors and others funded and administered by the government for the public. Medicare is such a program. But we don't get to hear about single payer proposals except from proponents like Representatives John Conyers (D-MI), Dennis Kucinich (D-OH), and Anthony Weiner (D-NY), who define single payer universal health care very clearly.
President Obama's outline of the public option in his September 9 speech to Congress is essentially unchanged in the current legislation. The Democratic plan offers "a new insurance exchange" for "Americans who don't currently have health insurance." This sounds good so far, but wait. This exchange will be "a new insurance exchange --a marketplace where individuals and small businesses will be able to shop." The option will be "available in the insurance exchange" and "it would only be an option for those who don't have insurance." (See What Obama Actually Said About Health Reform)
It's not really public, it's for a small segment of the population, and it is any where from four to ten years out in full availability. This reflects the Oct. 29 House proposal, H.R. 3962, and some aspects of the latest Senate claims for a public option.. The entire effort, limited as it is, will be compromised from the very start since Congress linked public option provider reimbursement rates to those of the health insurance companies.
When citizens see "Open to the public," they don't take that to mean only some of the public. When land is set aside for "public use," does that mean only 5% or 6 % of the public? All of this makes no sense unless you accept the deliberately confusing definitions and assumptions of The Money Party.
Why would any member of the public think that they were excluded from a public option?
Why would those controlling the debate want us to think that?
Here's why. The findings in this poll strikes terror into the heart of The Money Party.
- Advertisement -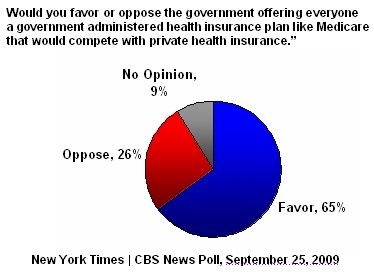 The poll shows a clear majority in favor of a single payer, universal health care program as an option for all citizens. This poll is consistent with other polls despite the confusion from Washington. In a fair debate, the health insurance companies would get their clock cleaned and be out of business within a year or two. But we're not allowed an open and fair debate because the risk of vanishing corporations is never in The Money Party's game plan. Their political bouncers just tossed us under the bus.