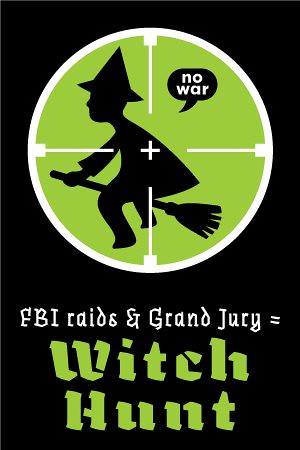 The FBI has had antiwar and solidarity activists from Chicago and Minneapolis in their sights for the past months.

(

Image

by

Committee to Stop FBI Repression

)

Permission Details DMCA

br />The FBI has had antiwar and solidarity activists from Chicago and Minneapolis in their sights for the past months. by Committee to Stop FBI Repression


On December 6th, Chicagoans came out for an Emergency Response Rally organized by the Committee to Stop FBI Repression to support activists who have been targeted by the FBI in the past months. Those present stood in the cold and condemned U.S. attorney Patrick Fitzgerald, who has been directing the FBI to expand its repression of activists in Chicago.

The rally specifically addressed the recent targeting of three young women who had traveled to Palestine last summer. On Friday, December 3rd, they were given subpoenas to appear before a Grand Jury on January 25, 2011. Since then, two more individuals have been subpoenaed. This new wave of repression came a week after subpoenas for three activists in Minneapolis -" Tracy Molm, Anh Pham, and Sarah Martin -" were re-activated and asked to appear before a Grand Jury again after refusing to speak to a Grand Jury in October.

The father of one of the Chicago women subpoenaed, Stan Smith, appeared at the rally and read a statement from her daughter, Sarah Smith, "Friday morning I received a phone call from an FBI agent. He asked if I had about 30 minutes to sit down and speak with him so he could ask me some questions. I asked about what and he said he was not at liberty to discuss it."

"I felt there was something suspicious about him telling me he wanted to ask me some questions, but he would not tell me what these questions were," read Smith. "I reiterated that it would be much easier for me to sit down with him if I knew why an FBI agent wanted to sit down with me. He then said it had to deal with a trip I took this last summer. He emphasized I think you know, which one I'm talking about."

Smith noted, "I don't think I need to speak in defense of her character. While she was in high school, Crain's Chicago Business had a special edition called the "100 Most Influential Women in Chicago" and they chose my daughter as being one of Chicago's six most influential and up-and-coming women high school students. Crain's Chicago Business chose her partly because they saw she was willing to travel to different parts of the world and see for herself and to make up her own mind about what was happening over there. Evidently, the FBI thinks that there is something criminal in doing that."

Subpoenaed activist Stephanie Weiner, who had her home raided by the FBI on September 24th of this year, lamented the fact that more activists were being subpoenaed and explained it was being done to put fear, intimidate and divide members of activist movements in the country. She outlined the fact that they are from many different movements: union, immigrant rights, justice, and Latin American and Palestinian solidarity movements.

- Advertisement -

Matt Brandon of SEIU Local 73 said, "When people can't get together and peacefully protest without being threatened by arrest or a raid or a subpoena, it's a sad state of affairs." He provided a brief history of how dissent has been repressed in America and why it is important for all movements to come together and fight bac

The hunting down of activists began on September 24th when the FBI raided homes and offices of activists from Minneapolis and Chicago. Computers, phones, documents and other personal items were seized and the FBI officially subpoenaed 14 activists to appear before a Grand Jury. The FBI began to contact members of the "peace community" and ask them what they knew about the subpoenaed activists' "material support for terrorism."