Reprinted from Campaign For America's Future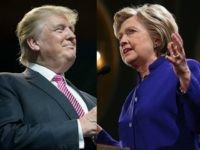 Trump: TPP Trade Deal Is .a Continuing Rape of Our Country. ...
(
Image
by
breitbart.com
)
Details
DMCA
>
Donald Trump is selling himself as the champion of working-class voters. He says Democrats and their presumptive presidential nominee, Hillary Clinton, are selling them out with trade deals. But Trump is just a fraud.
Unfortunately, President Obama is pushing the Trans-Pacific Partnership (TPP) agreement and Clinton is not confronting him for doing so.
That has to change -- fast. Clinton must publicly, directly and loudly challenge President Obama and demand that he withdraw TPP from consideration by Congress.
Trump's Trade Speech
Trump's speech on trade and "globalization" issues attempted to frame Clinton and Democrats as being on the side of the "Wall Street" forces that have pushed low-wage policies on working-class Americans. He is using the upcoming and hated TPP being pushed by President Obama as an example of this, saying Clinton is only "pretending" to oppose TPP in order to get votes.
From the speech:
"The legacy of Pennsylvania steelworkers lives in the bridges, railways and skyscrapers that make up our great American landscape.

"But our workers' loyalty was repaid with betrayal.

"Our politicians have aggressively pursued a policy of globalization -- moving our jobs, our wealth and our factories to Mexico and overseas.

"Globalization has made the financial elite who donate to politicians very wealthy. But it has left millions of our workers with nothing but poverty and heartache.

[. . .] The people who rigged the system are supporting Hillary Clinton because they know as long as she is in charge nothing will ever change."
In Trump's usage, the words "trade" and "globalization" mean one, and only one, thing: moving American jobs and factories to low-wage countries. This movement of jobs in recent decades, pitting American workers against exploited workers who are paid squat and can't do anything about it, has been used as one lever to intentionally create unemployment, break the unions and force down wages. (Inflation panic leading to Federal Reserve interest rate increases, deficit scares leading to austerity -- especially the refusal to spend on infrastructure -- and obstruction leading to minimum wage stagnation are others.)
Trump is appealing to disaffected working class workers who used to vote Democratic, but have seen their jobs shipped out of the country and/or their wages cut or stagnate. These workers see Democrats as complicit in adopting free-trade deindustrialization policies. The North American Free Trade Agreement (NAFTA), pushed and signed by President Clinton, has become a catchall symbol of this disaffection with free-trade policies, but Democrats are generally seen as having done little to fight such policies.
President Obama contributed to the problem by campaigning with a promise to renegotiate NAFTA, then reneging on this promise once elected.
(Note: You can view every article as one long page if you sign up as an Advocate Member, or higher).