The drug midazolam has been used in several botched executions in the past year. With midazolam's bad track record, why would any state choose to use it in a lethal injection execution?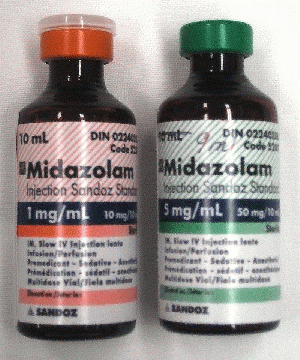 Midazolam
(
Image
by
(From Wikimedia) James Heilman, MD
, Author:
James Heilman, MD
)
Details
Source
DMCA
The last time the Supreme Court examined lethal injection, seven years ago, it credited the states with demonstrating an "earnest desire to provide for a progressively more humane manner of death."
But in an op-ed published today in the National Law Journal, lethal injection experts Megan McCracken and Jennifer Moreno debunk the notion that states' choices have been motivated by a desire to make executions more humane:
"Oklahoma selected midazolam to be the first drug in its existing three-drug procedure because the state could obtain it, not because midazolam possessed the necessary pharmacological properties to ensure a humane death. Days before the original execution date of Lockett and Charles Warner in March 2014, Oklahoma revealed that its usual source for pentobarbital "fell through" and that it would use midazolam in place of the barbiturate. Because midazolam cannot reliably provide deep anesthesia, Oklahoma's new execution procedure is not progress, but a step backwards."
In fact, the use of midazolam by a small handful of states shows a tolerance for risk of pain and suffering, they write:
"Oklahoma and other states persist in relying on midazolam, despite knowing its use will lead to pain and suffering for condemned prisoners. Oklahoma compounds the risks of harm presented by midazolam by following it with a paralytic drug, which, if administered properly, will hide midazolam's deficiencies by causing prisoners to be perfectly still and quiet, even if they are in excruciating pain."
Although the Supreme Court posited that states would determine lethal injection methods based on a desire to improve those procedures, McCracken and Moreno reveal how states' actions over the past seven years defy that assertion:
"To the extent the states' actions can be explained by a common denominator, it is expediency. The actual "earnest desire" at work is not a more humane manner of death, but a different goal: to carry out executions without disruption."
On April 29th, the Supreme Court will hear arguments in Glossip v. Gross, a case that challenges Oklahoma's use of the anti-anxiety drug midazolam in lethal injection executions.

Expediency might trump science when states rush to execute, but the Supreme Court has a higher duty to ensure that such punishments are carried out lawfully.