Reprinted from The Nation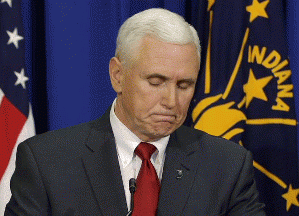 Indiana Governor Mike Pence
(
Image
by
Twitter User sujiai
)
Details
DMCA
Indiana Governor Mike Pence, who not long ago sounded like a 2016 Republican presidential prospect, might have thought that his decision to sign his state's so-called "Religious Freedom Restoration Act" (RFRA) would have at least earned him the enthusiastic embrace of all Republicans and all conservative media.
But it is not working out that way in Indiana, a state that (with the exceptions of Democrats Lyndon Johnson in 1964 and Barack Obama in 2008) has backed every Republican presidential candidate since 1940. A number of 2016 Republican presidential prospects -- including former Florida Governor Jeb Bush, Texas Senator Ted Cruz and Dr. Ben Carson (who referred to the Indiana law as "vital") -- backed Pence with notably more enthusiasm than the governor could muster.
But the governor got a good deal of pushback from conservative Republicans and media at home -- so much, in fact, that Pence now says he is looking for a way to adopt new legislation that will "clarify" that the law does not permit businesses to engage in discrimination against lesbian, gay, bisexual and transgender (LGBT) people.
It remains to be seen whether Pence, who has bumbled badly as he has tried to defend the RFRA, will get the clarification right. He still does not seem to grasp what the problem is -- claiming that "we've got a perception problem."
(Note: You can view every article as one long page if you sign up as an Advocate Member, or higher).