Reprinted from The Greanville Post
Ted Cruz
(
Image
by
DonkeyHotey
)
Details
DMCA
Do you want to know where the GOP stands, generically, for 2016? Well, there is one fascinating place to get that information. It's called "GOP.com" (in the logo there is an elephant in the dot -- that's the party of non-cuteness trying so hard to be cute). It is indeed the main website of the Repubs. I put myself on their mailing list just so I can stay current with what they are talking about. (Of course that does from time-to-time [ho, ho, ho] stand at variance with what they are actually doing).
It presents what I presume is the (lowest?) common denominator, currently, that will underlie the 2016 GOP platform. I share its main features with you, below. For they are most revealing about what the party is about, and even more what it is not about.
Of course, as you know well, a number of candidates for the Repub. nomination have already entered the race. They each present certain variants to the common denominator, or at least they try to, to "show their independence" (even though whomever gets the Party's nod will be so dependent upon its big money men and their whims and wishes.) There's Ted Cruz, who along with the standard stuff is trying very hard to capture the standard of the Christian Right. He started out right there at Liberty University and at times seemed to be claiming the endorsement of the Liberty University version of Jesus Christ himself. (Of course, that version varies in many dimensions from those of many other Christian churches, but that is a matter for another time).
Rand Paul
(
Image
by
DonkeyHotey
)
Details
DMCA
Then there is the self-styled "libertarian," the ophthalmologist, Rand Paul, MD. No one ever seems to stop to bother defining exactly what "libertarianism" is in any detail, but whatever it might be, Paul's very own definition of "liberty" does vary in meaning from that of the commons. On the one hand, not being officially Board Certified in his specialty by the American Board of Ophthalmology, Dr. Paul once upon a time took the liberty of setting up his own Ophthalmological Board in his home state of Kentucky. That might be called "taking some liberties."
On the other hand, he is firmly opposed to liberty for pregnant women to decide for themselves the outcome of pregnancy until the time of viability. Until very recently he had been a sponsor of the religion-based "Life at Conception Act." Now his site settles for advocating every single religious-belief based possible restriction on the exercise of abortion rights, still with the website heading for the subject area: "Sanctity of Life."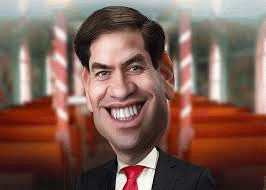 Marco Rubio
(
Image
by
DonkeyHotey
)
Details
DMCA
Next we find Marco Rubio (above left), son of Cuban refugees, but not from Castro, rather from Batista, who doesn't seem to know what he stands for on a variety of issues, such as immigration, exactly of which church he is a member (Mormon, Catholic, or Baptist -- on certain policy issues they vary widely), and even Cuba, for there are strong right-wing business interests that are very happy with the "Obama-opening."
But whoever the nominee is, he/she (don't forget the failed HP executive Carly Fiorina) will have to gravitate back to the GOP version of the (Far Right) "center." And here 'tis, right from GOP.com. If you are a good Repub., site says, you will believe mainly in a set of slogans and sayings (with exceptions):
"Our country is exceptional" (as long as you don't mention such "exceptionalities" as being the only advanced capitalist country not to have some form of national health insurance);

"Constitution should be honored, valued, and upheld" (as long as you also support violating the provisions of Article VI pertaining to such international treaties as the UN Convention Against Torture);

"Leaders should serve people, not special interests" (as long as "special interests" in this context does not mean, for example, the Koch Brothers or Sheldon Adelson);

"Families and communities should be strong and free from government intrusion" (except when there is "government intrusion" on such matters ranging from freedom of choice in the outcome of pregnancy to communities choosing to ban fracking locally to protect their drinking water);

"Institution of traditional marriage is the foundation of society" (as long as "marriage" is defined according to certain religious preferences);

"Government should be smaller, smarter and more efficient" (except when it comes to such matters as continuing to carry on the totally failed "war on certain drug users");

"Health care decisions should be made by us and our doctors" (except when they come to such matters as end-of-life care);

"Paychecks should not be wasted on poorly run government programs" (unless it's for the F-35 program or ships the Navy cannot use effectively);

"The military must be strong and prepared to defend our shores" (without defining what "protect our shores" means, precisely, how much that would cost, and where the money would come from);

"Culture should respect and protect life" (seemingly to define "life" as existing before birth but not after it);

"Children should never be left in failing schools" (without defining "failing schools" or proposing what to do to fix them other than crushing the teachers' unions);

"Veterans should have the best care and opportunities in the world" (unless that would require at least the restoration of funds to the VA that consecutive Repub. Congresses have cut out of their budgets as demands for service have increased)

"Social programs should help lift people out of poverty" (except when they are members of the very useful -- for the capitalist class -- permanent army of the unemployed);

and "America should be energy independent" (except when it comes to solar, wind, and other renewable sources of energy).
My-oh-my, what a target the Repubs. give us. It is redolent with the smell of oh-so-easy political pickings. But ah, is there a Democrat out there who can pick at those pickings and who has the nerve to do so? Aye. There's the rub. Where is Thomas Cromwell when we need him?