Original published at RT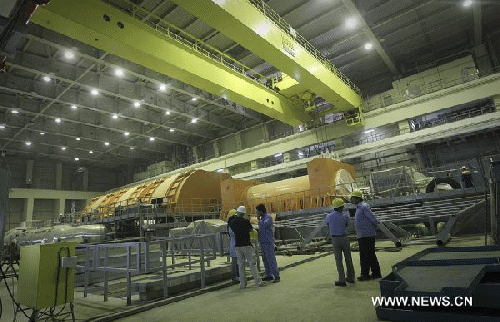 Iran has begun loading fuel into the Bushehr nuclear power plant, the first in Iran, on Tuesday.
(
Image
by
(Xinhua/ Mehr News Agency/Majid Asgaripour)
)
Details
DMCA
>
A fascinating nuclear/energy ballet involving Iran, Russia, the US and the EU is bound to determine much of what happens next in the new great game in Eurasia.
Let's start with what's going on with the Iranian nuclear dossier.
Iranian Foreign Ministry legal adviser Jamshid Momtaz has been forced to clarify that the interim nuclear deal signed by Iran and the P-5+1 nations on November 2013 is not an international treaty -- yet.
As we stand, the gap between the US, Russia, China, Britain, France and Germany on one side, and Iran on the other side, remains very wide. Essentially, the gap that really matters is between Washington and Tehran. And that, unfortunately, translates as a few more months for the vast sabotage brigade -- from US neo-cons and assorted warmongers to Israel and the House of Saud -- to force the deal to collapse.
One of Washington's sabotage mantras is "breakout capability"; a dodgy concept which boils down to total centrifuge capacity/capability to produce enough enriched uranium for a single nuclear bomb. This implies an arbitrary limit on Iran's capacity to enrich uranium.
The other sabotage mantra forces Iran to shut down the whole of its uranium enrichment program, and on top of it negotiate on its missiles. That's preposterous; missiles are part of conventional armed forces. Washington in this instance is changing the subject to missiles that might carry the nuclear warheads that Iran does not have. So they should also be banned.
Moscow and Beijing see "breakout capability" for what it is; a manufactured issue. While Washington says it wants a deal, Moscow and Beijing do want a deal -- stressing it can be respected via strict monitoring.
Iranian Supreme Leader Ayatollah Khamenei has established his red line on the record, so there should be no misunderstanding; the final nuclear deal must preserve Tehran's legitimate right to enrich uranium -- on an industrial scale -- as part of a long-term energy policy. This is what Iranian negotiators have been saying from the beginning. So shutting down uranium enrichment is a non-starter.
Sanction me baby one more time
Uranium enrichment, predictably, is the key to the riddle. As it stands, Tehran now has more than 19,000 installed enrichment centrifuges. Washington wants it reduced to a few thousand. Needless to add, Israel -- which has over 200 nuclear warheads and the missiles to bomb Iran, the whole thing acquired through espionage and illegal arms deals -- presses for zero enrichment.
In parallel undercurrents, we still have the usual US/Israeli "experts" predicting that Iran can produce a bomb in two to three months while blasting Tehran for "roadblocks" defending its "illicit" nuclear program. At least US National Security Adviser Susan Rice has momentarily shut up.
Another key contention point is the Arak heavy-water research reactor. Washington wants it scrapped -- or converted into a light-water plant. Tehran refuses, arguing the reactor would only produce isotopes for medicine and agriculture.
And then there's the sanctions hysteria. The UN and the US have been surfing a sanction tidal wave since 2006. Tehran initially wanted those heavy sanctions which amount to economic war lifted as soon as possible; then it settled for a progressive approach. Obama might be able to lift some sanctions -- but a US Congress remote-controlled by Tel Aviv will try to keep others for eternity.
Here, with plenty of caveats is a somewhat detailed defense of a good deal compared to what may lead towards an apocalyptic road to war.
Assuming there is a deal, a crucial point is how long it will last. Washington wants it to be two decades. Tehran wants five years -- and then it should be treated like any other signatory to the 189-nation Nuclear Non-Proliferation Treaty (NPT) -- which allows non-nuclear weapons states to develop nuclear energy for civilian purposes. For an enlightened Iranian perspective, see here.
(Note: You can view every article as one long page if you sign up as an Advocate Member, or higher).