Reprinted from The Guardian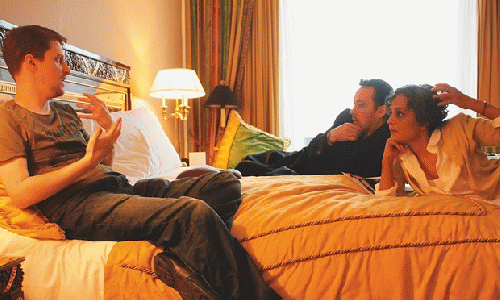 Arundhati Roy with Edward Snowden and John Cusack.
(
Image
by
Photograph: Ole Von Vexhull
)
Details
DMCA
>
The Moscow Un-Summit wasn't a formal interview. Nor was it a cloak-and-dagger underground rendezvous. The upshot is that John Cusack, Daniel Ellsberg (who leaked the Pentagon Papers during the Vietnam war) and I didn't get the cautious, diplomatic, regulation Edward Snowden. The downshot (that isn't a word, I know) is that the jokes, the humour and repartee that took place in Room 1001 cannot be reproduced. The Un-Summit cannot be written about in the detail that it deserves. Yet it definitely cannot not be written about. Because it did happen. And because the world is a millipede that inches forward on millions of real conversations. And this, certainly, was a real one.
What mattered, perhaps even more than what was said, was the spirit in the room. There was Edward Snowden who, after 9/11, was in his own words "straight up singing highly of Bush" and signing up for the Iraq war. And there were those of us who, after 9/11, had been straight up doing exactly the opposite. It was a little late for this conversation, of course. Iraq has been all but destroyed. And now the map of what is so condescendingly called the "Middle East" is being brutally redrawn (yet again). But still, there we were, all of us, talking to each other in a bizarre hotel in Russia. Bizarre it certainly was.
The opulent lobby of the Moscow Ritz-Carlton was teeming with drunk millionaires, high on new money, and gorgeous, high-stepping young women, half peasant, half supermodel, draped on the arms of toady men -- gazelles on their way to fame and fortune, paying their dues to the satyrs who would get them there. In the corridors, you passed serious fistfights, loud singing and quiet, liveried waiters wheeling trolleys with towers of food and silverware in and out of rooms. In Room 1001 we were so close to the Kremlin that if you put your hand out of the window, you could almost touch it. It was snowing outside. We were deep into the Russian winter -- never credited enough for its part in the second world war.
Edward Snowden was much smaller than I thought he'd be. Small, lithe, neat, like a house cat. He greeted Dan ecstatically and us warmly. "I know why you're here," he said to me, smiling. "Why?" "To radicalise me." I laughed.
We settled down on various perches, stools, chairs and John's bed. Dan and Ed were so pleased to meet each other, and had so much to say to each other, that it felt a little impolite to intrude on them. At times they broke into some kind of arcane code language: "I jumped from nobody on the street, straight to TSSCI." "No, because, again, this isn't DS at all, this is NSA. At CIA, it's called COMO." "It's kind of a similar role, but is it under support?" "PRISEC or PRIVAC?" "They start out with the TALENT KEYHOLE thing. Everyone then gets read into TS, SI, TK, and GAMMA-G clearance... Nobody knows what it is..."
It took a while before I felt it was all right to interrupt them. Snowden's disarming answer to my question about being photographed cradling the American flag was to roll his eyes and say: "Oh, man. I don't know. Somebody handed me a flag, they took a picture." And when I asked him why he signed up for the Iraq war, when millions of people all over the world were marching against it, he replied, equally disarmingly: "I fell for the propaganda."

Dan talked at some length about how it would be unusual for US citizens who joined the Pentagon and the National Security Agency to have read much literature on US exceptionalism and its history of warfare. (And once they joined, it was unlikely to be a subject that interested them.) He and Ed had watched it play out live, in real time, and were horrified enough to stake their lives and their freedom when they decided to be whistleblowers. What the two of them clearly had in common was a strong, almost corporeal sense of moral righteousness -- of right and wrong.
A sense of righteousness that was obviously at work not just when they decided to blow the whistle on what they thought to be morally unacceptable, but also when they signed up for their jobs -- Dan to save his country from communism, Ed to save it from Islamist terrorism. What they did when they grew disillusioned was so electrifying, so dramatic, that they have come to be identified by that single act of moral courage.
Edward Snowden and Arundhati Roy.
(
Image
by
Photograph: Courtesy of John Cusack
)
Details
DMCA
I asked Ed Snowden what he thought about Washington's ability to destroy countries and its inability to win a war (despite mass surveillance). I think the question was phrased quite rudely -- something like, "When was the last time the United States won a war?" We spoke about whether the economic sanctions and subsequent invasion of Iraq could be accurately called genocide. We talked about how the CIA knew -- and was preparing for the fact -- that the world was heading to a place of not just inter-country war but of intra-country war, in which mass surveillance would be necessary to control populations. And about how armies were being turned into police forces to administer countries they have invaded and occupied, while the police -- even in places such as India and Pakistan and Ferguson, Missouri, in the United States -- were being trained to behave like armies to quell internal insurrections.
Ed spoke at some length about surveillance. And here I quote him, because he's said this often before: "If we do nothing, we sort of sleepwalk into a total surveillance state where we have both a super-state that has unlimited capacity to apply force with an unlimited ability to know (about the people it is targeting) -- and that's a very dangerous combination. That's the dark future. The fact that they know everything about us and we know nothing about them -- because they are secret, they are privileged, and they are a separate class" the elite class, the political class, the resource class -- we don't know where they live, we don't know what they do, we don't know who their friends are. They have the ability to know all that about us. This is the direction of the future, but I think there are changing possibilities in this."
I asked Ed whether the NSA was just feigning annoyance at his revelations, but might actually be secretly pleased at being known as the All Seeing, All Knowing Agency -- because that would help to keep people fearful, off-balance, always looking over their shoulders and easy to manage.
Dan spoke about how even in the US, a police state was only another 9/11 away: "We are not in a police state now, not yet. I'm talking about what may come. I realize I shouldn't put it that way... White, middle-class, educated people like myself are not living in a police state... Black, poor people are living in a police state. The repression starts with the semi-white, the Middle Easterners, including anybody who is allied with them, and goes on from there... One more 9/11, and then I believe we will have hundreds of thousands of detentions. Middle Easterners and Muslims will be put in detention camps or deported. After 9/11, we had thousands of people arrested without charges... But I'm talking about the future. I'm talking the level of the Japanese in the second world war... I'm talking of hundreds of thousands in camps or deported. I think the surveillance is very relevant to that. They will know who to put away -- the data is already collected." (When he said this, I did wonder, though I did not ask -- how different would things have been if Snowden had not been white?)

We talked about war and greed, about terrorism, and what an accurate definition of it would be. We spoke about countries, flags and the meaning of patriotism. We talked about public opinion and the concept of public morality and how fickle it could be, and how easily manipulated. It wasn't a Q&A type of conversation. We were an incongruous gathering. Ole von Uexkull from the Right Livelihood Foundation in Sweden, myself and three troublesome Americans. John Cusack, who thought up and organised this whole disruptive enterprise, comes from a fine tradition, too -- of musicians, writers, actors, athletes who have refused to buy the bullshit, however beautifully it was packaged.
What will become of Edward Snowden? Will he ever be able to return to the US? His chances don't look good. The US government -- the Deep State, as well as both the major political parties -- wants to punish him for the enormous damage he has inflicted, in their perception, on the security establishment. (It's got Chelsea Manning and the other whistleblowers where it wants them.) If it does not manage to kill or jail Snowden, it must use everything in its power to limit the damage he's done and continues to do. One of those ways is to try to contain, co-opt and usher the debate around whistleblowing in a direction that suits it. And it has, to some extent, managed to do that.
(Note: You can view every article as one long page if you sign up as an Advocate Member, or higher).