From Consortium News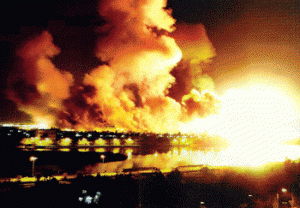 At the start of the U.S. invasion of Iraq in 2003, President George W. Bush ordered the U.S. military to conduct a devastating aerial assault on Baghdad, known as 'shock and awe.'
(
Image
by US Government photo)
Details
DMCA
The New York Times and other Western media have learned few lessons from the Iraq War, including how the combination of a demonized foreign leader and well-funded "activists" committed to flooding the process with fake data can lead to dangerously false conclusions that perpetuate war.
What we have seen in Syria over the past six years parallels what occurred in Iraq in the run-up to the U.S.-led invasion in 2002-03. In both cases, there was evidence that the "system" was being gamed -- by the Iraqi National Congress (INC) in pushing for the Iraq War and by pro-rebel "activists" promoting "regime change" in Syria -- but those warnings were ignored. Instead, the flood of propagandistic claims overwhelmed what little skepticism there was in the West.
Regarding Iraq, the INC generated a surge of "defectors" who claimed to know where Saddam Hussein was concealing his WMD stockpiles and where his nuclear program was hidden. In Syria, we have seen something similar with dubious claims about chemical weapons attacks.
The Iraqi "defectors," of course, were lying, and a little-noticed congressional study revealed that the CIA had correctly debunked some of the fakers but -- because of the pro-invasion political pressure from George W. Bush's White House and the U.S. mainstream media's contempt for Saddam Hussein -- other bogus claims were accepted as true. The result was catastrophic.
But the telltale signs of an INC disinformation campaign were there before the war. For instance, by early February 2003, as the final invasion plans were underway, the parade of Iraqi "walk-ins" was continuing. U.S. intelligence agencies had progressed up to "Source Eighteen," one fellow who came to epitomize what some CIA analysts suspected was systematic INC coaching of sources.
As the CIA planned a debriefing of Source Eighteen, another Iraqi exile passed on word to the agency that an INC representative had told Source Eighteen to "deliver the act of a lifetime." CIA analysts weren't sure what to make of that piece of news since Iraqi exiles frequently badmouthed each other but the value of the warning soon became clear.
U.S. intelligence officers debriefed Source Eighteen the next day and discovered that "Source Eighteen was supposed to have a nuclear engineering background, but was unable to discuss advanced mathematics or physics and described types of 'nuclear' reactors that do not exist," according to a Senate Intelligence Committee report on the Iraq War's intelligence failures.
"Source Eighteen used the bathroom frequently, particularly when he appeared to be flustered by a line of questioning, suddenly remembering a new piece of information upon his return. During one such incident, Source Eighteen appeared to be reviewing notes," the report said.
Not surprisingly, U.S. intelligence officers concluded that Source Eighteen was a fabricator. But the sludge of INC-connected disinformation kept oozing through the U.S. intelligence community, fouling the American intelligence product in part because there was little pressure from above demanding strict quality controls. Indeed, the opposite was true.
A more famous fake Iraqi defector earned the code name "Curve Ball" and provided German intelligence agencies details about Iraq's alleged mobile facilities for producing agents for biological warfare.
Tyler Drumheller, then chief of the CIA's European Division, said his office had issued repeated warnings about Curve Ball's accounts. "Everyone in the chain of command knew exactly what was happening," Drumheller said. [Los Angeles Times, April 2, 2005]
Despite those objections and the lack of direct U.S. contact with Curve Ball, he earned a rating as "credible" or "very credible," and his information became a core element of the Bush administration's case for invading Iraq. Drawings of Curve Ball's imaginary bio-weapons labs were a central feature of Secretary of State Colin Powell's presentation to the U.N. on Feb. 5, 2003.
The Syrian Parallel
Regarding Syria, a similar mix of factors exists. The Obama administration's advocacy for Syrian "regime change" and the hostility from many Western interest groups toward President Bashar al-Assad lowered the bar of skepticism enabling propaganda arms of Al Qaeda and its jihadist allies to have enormous success in selling dubious accusations about chemical attacks and other atrocities.
(Note: You can view every article as one long page if you sign up as an Advocate Member, or higher).