(cross posted at Huffington Post)

At the Deepwater Horizon Joint Command press conference last week (June 30) on the toxic studies of Corexit, Paul Anastas, the U.S. Environmental Protection Agency's Assistant Administrator for Research and Development, answered a question from the Associated Press. He said clearly that there was no evidence of dispersants in the air. Here is the relevant portion of a recording of his remarks. (Listen at 1:50)
However, the EPA site which provides real time data for air quality monitoring on the Gulf Coast indicated that from May 18-June 6 "two chemicals found in dispersants" were detected at numerous GPS locations on the Gulf. The data for June 6 can be found here and the data for the other sites is available at the TAGA Route website. The chemicals detected were 2-butoxyethanol and 1-(2-butoxy-1-methylethoxy)-2-propanol.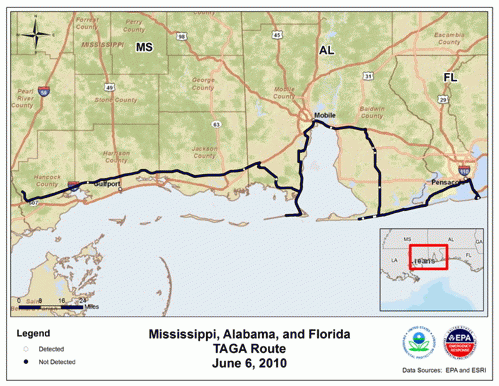 We called the PIO at Deepwater Horizon and asked for a clarification on the discrepancy. Joint Unified Command consists of BP, the Coast Guard, NOAA, CDC, MMS, and the EPA.
Here is our email exchange.
Our question:
At a press conference on dispersants today, EPA representative Dr. Paul Anastas, the U.S. Environmental Protection Agency's Assistant Administrator for Research and Development, said "no dispersants" have been detected in the air. However, TAGA website says:

EPA's TAGA bus monitors for two chemicals found in the COREXIT dispersants: EGBE (2-butoxyethanol), and dipropylene glycol mono butyl ether, which have the highest potential to get into the air in any significant amounts. EPA has been monitoring for these chemicals since May 18, 2010. The TAGA bus monitors are able to detect and measure these chemicals if they evaporate into the air. The TAGA bus has detected very low levels of these chemicals in the air, at a limited number of the locations sampled along the Gulf Coast. The levels found to date are well below those that are likely to cause health effects.

And comma delineated files show low levels of dispersants

Can you clarify for me?
The response:
I've been informed that the EPA question has to be worked through the EPA PIO in area command in New Orleans and then sent to Washington. I can pass it to them if you'd like for an answer?
We indicated that we would like to have the information forwarded to Washington, but as of this writing there has been no response. I want to make it very clear that the PIO has tried her best to get answers for us.
The public, as well as journalists, need timely answers to this question. Since dispersants have been detected in the air, toxicity levels must be addressed. We need scientific interpretation more than ever now that we are faced with an unprecedented release of oil and other chemicals into the Gulf of Mexico. The government's Deepwater Horizon Response website reports that more than more than 1.62 million gallons of dispersants have been used so far, including more than 1.03 million gallons of surface dispersant and more than 590,000 gallons of subsea dispersant.
The most important questions about the potential for long-term heath effects due to exposure to dispersants, such as cancer and nervous system disorders, have not been addressed, although the EPA says it is doing further testing. The problem is that a study of long-term health effects will take years, and the sea life and people living along the Gulf Coast not have the luxury of time. The wellhead explosion at Mississippi Canyon block 252, took place on April 20; we still do not know much about air quality, and the information we are given is contradictory.
The public's inability to get answers is especially troubling, since more and more information is coming to light regarding the cozy relationship between the Government, the EPA and private industry involved in this catastrophe. The New York Times reported that Nalco Co., the manufacturer of Corexit 9500 hired a former EPA employee as a lobbyist.
llinois-based Nalco Co., manufacturer of dispersant Corexit 9500, recently hired Ramola Musante to run the company's Washington lobbying effort. Musante previously worked at both EPA and the Department of Energy. Nalco also recruited Ogilvy Government Relations, whose lobbyists include Drew Maloney, past assistant to former House Majority Whip Tom Delay (R-Texas).

The chemical company brought on those lobbyists in March and April to talk to lawmakers about potential environmental regulations. But Nalco now faces a host of new concerns because of its tie to the oil spill cleanup.
(Note: You can view every article as one long page if you sign up as an Advocate Member, or higher).