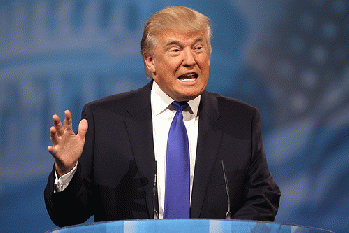 Donald Trump
(
Image
by
Gage Skidmore
)
Details
DMCA
How Does The Donald Do It?

Why do you watch sports on television? It's the only thing that happens on television. It actually occurs; that's why you can't stop watching it. Trump occurs. That's why we can't take our eyes off him.

-- Ron Suskind, on Chris Lydon's "Radio Open Source," September 8, 2016
In 1939, Robert Hutchins, boy wonder president of the University of Chicago, abolished its football program. I once asked another president of a major American university if he believed a semi-pro athletic program was a good fit inside "the academy," and how it could be justified. He replied, "I've always just considered it an anomaly."

Is that how we should think about a Donald Trump inside the American political system? As an anomaly?



Of course, part of the answer lies with his squirrels. But it's so much more.

For starters, there are solid, conventional explanations for what we have been doing to our politics ever since the Democratic Party joined the Republicans in ignoring the plight of the poor, working poor, beating back the unions that once enabled the working class to create a middle class, and then relying on the 1% to pay the party's bills.
Both parties failed to listen, and thus did not hear, the mounting public despair, disgust, and distrust that the parties created, and had by this year risen well above flood stage to rage. The Democratic Party's leadership refused to budge, even as primary and poll results revealed the state of the union was a demand for change, for representation, and a rejection of the establishment.

The Democrats offered a disaffected public their party's most quintessential establishment candidate, Hillary Clinton, with her 1950's-style campaign, and the second highest negatives of any presidential candidate ever. They had to have seen her struggle trying to best two of the nation's most unlikely presidential candidates -- Donald Trump and Bernie Sanders.



Bernie Sanders showed the Democrats what they had to do to win, how to generate not just numbers of voters but enthusiastic voters, how to attract new members from independents and first-time voters, and how to crowd-fund a presidential campaign with $27 contributions rather than billionaires. Not only did they not support him, or learn from him, or even thank him, they affirmatively fought him at every turn.

Then, of course, there's Hillary's familiar 30 years of baggage.
But there is much more to Trump's success and style than can be understood with conventional analyses of the Democratic Party's failures.
Who is this guy? What is he doing? Why is he doing it? How come so many Americans are supporting him? Are there any explanations?

In fact, there are an increasing number of theories as to how Donald Trump seems to have single-handedly bent what was once the American democratic process to his own ends.

One of my earlier theories emerged during conservative Hugh Hewitt's interview with Trump:
Hugh Hewitt (HH): You said the President was the founder of ISIS. I know what you meant. You meant that he created the vacuum, he lost the peace.

Donald Trump (DT): No, I meant he's the founder of ISIS.

. . .

HH: I think I would say . . . they created the vacuum into which ISIS came, but they didn't create ISIS. That's what I would say. . . . I'd just use different language to communicate it.

DT: But they wouldn't talk about your language, and they do talk about my language, right?


(Note: You can view every article as one long page if you sign up as an Advocate Member, or higher).