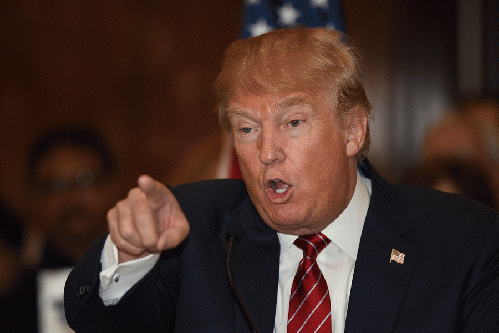 (
Image
by
bigstockphoto.com/image-103507385/stock-photo-candidate-donald-trump-speaks-at-press-conference
)
Details
DMCA
After first telling CNN that he would eliminate all gun-free zones, including those covering schools and military basis at a recent rally, Donald Trump recently nuanced his position. This came after Hillary Clinton, as you might expect, attacked the position, stating that Donald Trump wanted to "mandate that every school in America allow guns in classrooms."
Donald, in his regularly muddled manner, responded with the words, "I don't want to have guns in classrooms, although in some cases teachers should have guns in classrooms, frankly."
This strikes a different note, from when on the campaign trail, he said , "I will get rid of gun-free zones on schools, and -- you have to -- and on military bases. My first day, it gets signed, okay? My first day. There're no more gun-free zones." He said something very similar when he received the endorsement of the NRA a few days ago.
IN other places he's said exactly the opposite, however, with him tweeting, "Crooked Hillary said that I want guns brought into the school classroom. Wrong!" But if that's the case, then what, exactly does a gun free zone mean to him?
He's done a great deal of flip-flopping on this position, with him having supported an automatic weapons ban and actually having a gun-free zone at one of his own hotels. In fact, quite a few people at the NRA have their doubts.
"It's kind of hard for me to believe, because, you know, he's a New York person," Ryan Baumgarten, 29, an NRA member from Milwaukee, Wisconsin, said , "He says his sons are NRA life members. I don't know how long they've been members for. I don't know if the guy's ever really shot a gun."
"Usually, people are pretty loud about it if they're shooters ... It's like a long legacy," he said. "You never really heard Trump say anything about it for a while before the election."
David Kopel, a lifetime NRA member and prominent gun rights expert and attorney from Colorado, told interviewers that he did not know how long Trump's gun-rights fervor would last if he made it to the White House. "He's so obviously non-ideological that it's hard to count on him maintaining any position for long when it might become politically inconvenient," he said.
It certainly is not the only field in which Trump has changed his tune. He's previously been anti-abortion, but made statements to the effect that women should be punished for having abortions only recently -- something that was not well received by all sides (and something he has since then amended as well). He also supported a tax hike on the wealthy, but now is suggesting tax cuts (though this too he's modified, recently stating they won't be as big as previously promised).
And though on the campaign trail he has said, numerous times, that he does not believe in global warming, that it is a "hoax", "bullshit" and "pseudoscience" he has applied to construct a sea wall to protect one of his golf resorts, based on the very same evidence that he's been ridiculing on the campaign trail.
But then, this is nothing new to us. We are well aware that he's clearly not gifted at doing research . He has, in fact, quoted tabloid magazines to say that Ted Cruz was unfaithful and also insinuating Ted Cruz's father was involved with the JFK assassination based on a similar tabloid story.
This is why even though Clinton has some of the highest negatives ever recorded of a candidate who is about the clinch the nomination, Trump matches her and even surpasses her in many of these negatives. That's absolutely astounding and marks a new low for American politics.
In fact, more than 40% of people would like a third candidate to choose from, but this has been made nigh on impossible by the rules put in place by the two parties to prevent exactly that from happening.
The democratic system in the US, in other words, appears to be broken.
But then, perhaps that's why there are two such strong insurgency candidates to begin with, right?