From Consortium News
The 'magic mirror' in the children's story, 'Snow White.'
(
Image
by YouTube (Screenshot))
Details
DMCA
By insisting that he is the legitimate winner of the U.S. popular vote and the man who drew the largest inaugural crowd ever, President Trump is behaving like the evil queen in "Snow White" gazing into a "magic mirror" and refusing to accept that he isn't the "fairest of them all."
To protect his giant but fragile ego, Trump concocts fantasies about three million to five million illegal votes -- enough to cover his actual deficit of 2.8 million -- and he disputes the obvious fact that his inaugural turnout was far less than Barack Obama's.
Having attended both Obama's inaugural in 2009 and Trump's in 2017, I can assure you that Obama's crowd was much bigger. While my son Jeff and I had to squeeze into and out of packed Metro stations on Jan. 20, 2009, we had no trouble getting on a train on Jan. 20, 2017.
Even at the outskirts of Trump's inauguration, protesters far outnumbered celebrants. One vendor selling Trump-inaugural tee shirts remarked that he had been sitting there for four hours and had only sold five shirts.
Of course, none of that is too surprising since Obama was the first African-American president and Washington D.C. and its surrounding suburbs have large black populations as well as being heavily Democratic districts. In other words, it was easier for many Obama supporters to get to his inaugural than it was for Trump's backers to travel longer distances to get to his.
As for the crowds on the Mall, Trump's turnout was further depressed by the fact that large numbers of protesters, especially north of the inaugural parade route, clogged the security checkpoints. Some protesters even locked arms to slow the entry process.
So there were logical reasons -- not reflective of Trump's overall popularity -- explaining why his numbers were a lot lower than Obama's. But rather than accept this minor slight -- as well as the fact that he lost the national popular vote by a significant margin -- Trump has behaved like Snow White's vain queen who can't accept the inevitability of her fading beauty and the unwelcome news that someone younger has supplanted her as "the fairest" in the land.
Trump could have scored valuable political points by demonstrating some uncharacteristic grace, acknowledging that as the popular vote loser whose crowds fell short of Obama's record turnout, he recognizes his responsibility to be the president of all the people and to respect dissenting opinions.
Instead, he marred his first week in the White House by pushing easily debunked claims that he was the victim of conspiracies to disparage his inaugural turnout and deny him a popular-vote victory.
More Dangerous Lies
While Trump's refusal to accept unpleasant realities raises fresh concerns about his fitness for office -- since his presidency will surely face some painful reversals and rejecting reality is a dangerous way to respond -- he is certainly not the first president to lie to the American people.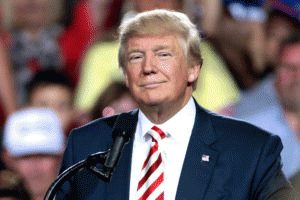 Donald Trump speaking with supporters at a campaign rally at the Prescott Valley Event Center in Prescott Valley, Arizona. October 4, 2016.
(
Image
by
(Flickr Gage Skidmore)
)
Details
DMCA
One difference between Trump's lies and many other lies, however, is that Trump's are both more personal and more obvious. Only his most benighted followers will continue to contest his popular vote loss and the comparatively small size of his inaugural crowds. Most government lies are both harder to detect and more sinister in their consequences.
Think, for example, of President George W. Bush's falsehoods about Iraq's WMDs and Saddam Hussein's alleged collaboration with Al Qaeda. That deceptive propaganda led to the deaths of more than 4,500 U.S. soldiers and hundreds of thousands of Iraqis, not to mention a price tag of more than $1 trillion and the spreading of chaos across the Middle East and into Europe.
(Note: You can view every article as one long page if you sign up as an Advocate Member, or higher).