From The Nation
The "you'd be in jail" line was antithetical to every historic and contemporary understanding of the American experiment.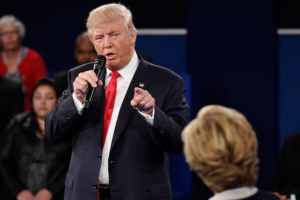 Barely an hour before the opening of the second debate between Donald Trump and Hillary Clinton, Pulitzer Prize-winning author and presidential biographer David Maraniss put Trump's pre-debate shenanigans in perspective. After the Republican nominee for president held a "debate-preparation" press availability with women who had accused former President Bill Clinton of sexual impropriety, Maraniss described the stunt as "the slimiest most depressing scene in modern American electoral history."
That was an appropriate assessment of Trump's transparent attempt to deflect attention from the scandal that arose with the release of a tape of the billionaire making lewd comments about how "when you're a star" you can do anything" to women.
But the author was only briefly correct about Trump creating "the slimiest most depressing scene in modern American electoral history." Once the debate got started, the Republican nominee outdid himself.
The first minutes of Sunday night's clash between Trump and Clinton produced a slimier and more depressing scene: that of a candidate for the presidency of the United States proposing to use the position to encourage a "special prosecutor" to investigate his opponent and suggesting that his election would lead to her imprisonment.
After an exchange in which Trump said that, if elected, he would "instruct my attorney general to get a special prosecutor" to investigate her handling of e-mails, Clinton pushed back and said Trump's remarks revealed why "It's just awfully good that someone with the temperament of Donald Trump is not in charge of the law in our country."
At that point Trump put aside the talk of special prosecutors and investigations and declared that the real reason Clinton did not want him in the White House was "Because you'd be in jail."
Trump, whose rallies frequently feature chants of "lock her up," smirked. His supporters in the debate hall cheered.