Reprinted from Consortium News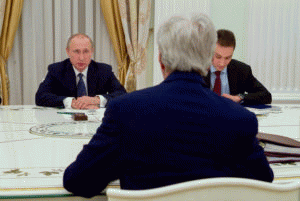 U.S. Secretary of State John Kerry listens to Russian President Vladimir Putin in a meeting room at the Kremlin in Moscow, Russia, at the outset of a bilateral meeting on July 14, 2016.
(
Image
by
[State Department Photo]
)
Details
DMCA
Through an endless barrage of ugly propaganda, the U.S. government and the mainstream American press have put the world on course for a potential nuclear showdown with Russia, an existential risk that has been undertaken cavalierly amid bizarre expressions of self-righteousness from Western institutions.
This extraordinarily dangerous moment reflects the insistence of the Establishment in Washington that it should continue to rule the world and that it will not broach the possibility of other nations asserting their own national interests even in their own neighborhoods.
Rather than adjust to a new multi-polar world, the powers-that-be in Washington have deployed a vast array of propaganda assets that are financed or otherwise encouraged to escalate an information war so aggressively that Russia is reading this onslaught of insults as the conditioning of the Western populations for a world war.
While that may not be the intention of President Obama, who in his recent United Nations address acknowledged the risks from imposing uni-polar order on the world, a powerful bureaucratic machinery is in place to advance U.S. propaganda goals. It is operating on a crazed auto-pilot hurtling toward destruction but beyond anyone's ability to turn it off.
This machinery consists not just of outlets and activists funded by U.S. tax dollars via the National Endowment for Democracy or the U.S. Agency for International Development or NATO's Strategic Communications Command, but like-minded "human rights" entities paid for by billionaire currency speculator George Soros or controlled by neoconservative ideologues who now run major U.S. newspapers, such as The Washington Post and The New York Times.
This propaganda apparatus now has so many specialized features that you get supposedly "progressive" and "anti-war" organizations promoting a major U.S. invasion of Syria under the guise of sweet-sounding policies like "no-fly zones" and "safe zones," the same euphemisms that were used as the gateway to bloody "regime change" wars in Iraq and Libya.
There exists what intelligence veterans call a Mighty Wurlitzer, an organ with so many keys and pedals that it's hard to know where all the sounds come from that make up the powerful harmony, all building to the same crescendo. But that crescendo may now be war with nuclear-armed Russia, which finds in all this demonizing the prelude to either a destabilization campaign aimed at "regime change" in Moscow or outright war.
Yet, the West can't seem to muster the sanity or the honesty to begin toning down or even showing skepticism toward the escalating charges aimed at Russia. We saw similar patterns in the run-up to war in Iraq in 2002-2003 and in justifying the ouster, torture and murder of Libya's Muammar Gaddafi in 2011.
Western propaganda also has enveloped the conflict in Syria to such an extent that the American people don't understand that the U.S. government and its regional "allies" have been supporting and arming jihadist groups fighting under the command of Al Qaeda and even the Islamic State. The propaganda has focused on demonizing Syrian President Bashar al-Assad, while downplaying or ignoring the real nature of the "moderate" opposition.
Taking Aim at Putin
In many ways, the Western insistence on "regime change" in Syria ties in directly to the extraordinary escalation of that strategy to seek "regime change" in Russia. In August-September 2013, America's neocons and liberal war hawks were salivating over the prospect of a U.S. military bombing campaign to devastate Assad's army as punishment for his alleged role in a sarin gas attack outside Damascus.
U.S. Secretary of State John Kerry, flanked by Assistant Secretary of State for European and Eurasian Affairs Victoria 'Toria' Nuland, addresses Russian President Vladimir Putin in a meeting room at the Kremlin in Moscow, Russia, at the outset of a bilate
(
Image
by
[State Department Photo]
)
Details
DMCA
Although the intelligence was weak regarding Assad's "guilt" -- and subsequent evidence has pointed to a likely provocation by radical jihadists using home-made sarin and a jerry-rigged rocket -- Official Washington was rubbing its hands at the prospect of a retaliatory bombing operation that would punish Assad and advance the cause of "regime change."
At the last minute, however, President Obama listened to the doubts from his intelligence advisers and rejected what he later called the Washington "playbook" of a military response to a complex problem. To the annoyance of Washington insiders, Obama then collaborated with President Putin in a diplomatic settlement in which Syria surrendered all its chemical weapons while still denying any role in the sarin attack. Obama was accused of weakness for not "enforcing his red line" against chemical weapons use.
(Note: You can view every article as one long page if you sign up as an Advocate Member, or higher).