Let's Answer the Question: Where are the Leaders of Tunisia's Jasmine Revolution?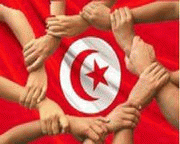 The Online Jasmine Revolution
(
Image
by Facebook Page Tunisian Riots:English Information)
Details
DMCA
By Tawnia Sanford Ammar
January 16, 2010
By now, the images of Tunisia's popular revolution are well known: streets packed with young people calling for the removal of former President Ben Ali, with rocks in their hands, facing down their police officers armed with guns that have killed more than 70 Tunisian citizens, the exact count yet unknown.
In the swift sequence of events beginning January 15, when former president Ben Ali fled the country after weeks of unrest and increasing violence, there is an important question that has hardly been posed yet: Where is this "Jasmine Revolution's" leadership?
Two days after Ben Ali's departure, the streets of Tunisia are relatively quiet. The protesters have gone home, and there remains a remarkable lack of information regarding the Jasmine Revolution's aspirations in the mainstream media, which has focused its reporting almost entirely on the interim government's response and actions.
Most past revolutions have had an easily identifiable leader, or group of leaders, but this one hasn't. There has not been a victory speech".at least not on television. This begs the question: Who orchestrated this revolution, and where are they now?
The answer lies in the catalyst that united Tunisians in revolt: the Internet. It is crucial to understand how this revolution has been conducted. This has been a revolution largely conducted (in the most literal sense) by Facebook status updates and tweets.
The Jasmine Revolution continues to march forward - on the internet -because little has changed with respect to Tunisians' ability to access information. The state-run TV station has changed its logo, but not its programming: in the midst of this revolution, the formerly named TV7 continues to broadcast cartoons and music shows as of this morning. Tunisian internet activists have been testing the limits of the recently promised "free and open Internet," and they have been posting their disappointing findings online at http://www.tunitech.net.
In actual fact, victory speeches have been made by some of the "conductors," but the mainstream media has simply missed them. Yesterday, this was posted to more than 8000 dedicated followers of the Revolution Tunisienne Facebook page:
Our country is our home! We have made an important step, but do not get excited just yet! The priority now is to save the injured, protect public property and private property. Dear Friends, please calm your friends and call for caution and more importantly, do not be afraid for the future and do not panic, this people is really a Great People!"
So why has the West missed this? Much smaller protests in Iran garnered much more attention and were dubbed, with unabashed sensationalism, the "Twitter Revolution."
The answer lies partially in the West's disconnection from the real leaders of the Jasmine Revolution. Yesterday, pundits on Al Jazeera International's broadcast debated whether Twitter or Facebook or Wikileaks placed the decisive role in this story. They miss the point.
(Note: You can view every article as one long page if you sign up as an Advocate Member, or higher).