By Ron Ridenour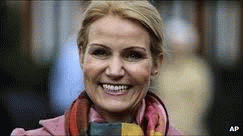 Denmark's new left coalition victory means a first-ever female PM
(
Image
by
ThisCantBeHappening
)
Details
DMCA
It was with joy that I watched television coverage of election day, September 15. According to all the nine political parties running, and the mass media, there were no wars in the world and Denmark no longer was involved in three wars--Iraq, Afghanistan and Libya--alongside the USA.
In fact, all through the three-week long election campaign, none of the parties spoke of war, or of that most fundamental of moral questions a society must ask: do we kill other people who do not attack us?
There were eight political parties in the 179-member parliament before election day. The right-wing coalition of liberals (Venstre, middle-to-large farmers' traditional party) and conservatives (Konservativ, businessmen's traditional party) held power for a decade but to achieve a parliamentary majority had been compelled to rely on the far right, racist People's Party (DF).
These eight parties form two blocs: red (center left) and blue (center right).Two in the red bloc declare themselves to be socialist: The People's Socialists (SF) and the Red Green Alliance (Enhedslisten/Unity List or EL). Another is the traditional majority party, Social Democrats (SD). The fourth "red" party, which shifts between blocs, is the Radical Liberals (Radical Venstre/RV, small business employers and self-employed).
In this election, significant shifts in the numbers of parliamentary factions occurred. EL went from 2.2% of the vote to 6.7% for a gain of eight MPs, 12 in all. The Conservatives lost ten of their 18 (from 10.4% to 4.9%), with most of those votes going to the RV (from 5.1% to 9.5%), which went from nine to 17 MPs, and the laissez faire, libertarian capitalist party, Liberal Alliance, which went from five to nine MPs (and from 2.8% to 5% of the vote).
The red bloc now has 89 MPs and the blue 86. Semi-autonomous Greenland and the Faroe Islands each have two MPs in the Danish parliament. These four are usually divided between the two blocs. So the red bloc, despite lacking one vote for a majority, can form a government and rule only if the Red Green Alliance does not oppose its three new partners over principled anti-war morality or pro-socialist economic policies, which is not likely to happen. In the past ten years, several billion dollars has been used for war and new billions are slated to buy more killing machines. Other billions have been used to bail out the banks here, just as in the US. EL's new partners have supported these policies and continue to do so.
Since its founding, in 1989, EL has opposed aggressive wars. But in this election, it decided to join the red bloc and negotiate with it, if victorious, for a state budget based on a capitalist economy...
(Note: You can view every article as one long page if you sign up as an Advocate Member, or higher).