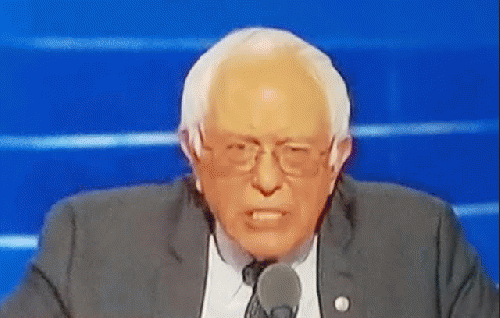 Bernie telling his supporters to take poison, I mean, Vote for Hillary
(
Image
by Feed from Dem Convention)
Details
DMCA
Good evening.
How great it is to be with you tonight.
Let me begin by thanking the hundreds of thousands of Americans who actively participated in our campaign as volunteers. Let me thank the 2 1/2 million Americans who helped fund our campaign with an unprecedented 8 million individual campaign contributions -- averaging $27 a piece. Let me thank the 13 million Americans who voted for the political revolution, giving us the 1,846 pledged delegates here tonight -- 46 percent of the total. And delegates: Thank you for being here, and for all the work you've done. I look forward to your votes during the roll call on Tuesday night.
And let me offer a special thanks to the people of my own state of Vermont who have sustained me and supported me as a mayor, congressman, senator and presidential candidate. And to my family -- my wife Jane, four kids and seven grandchildren --thank you very much for your love and hard work on this campaign.
I understand that many people here in this convention hall and around the country are disappointed about the final results of the nominating process. I think it's fair to say that no one is more disappointed than I am. But to all of our supporters -- here and around the country -- I hope you take enormous pride in the historical accomplishments we have achieved.
Together, my friends, we have begun a political revolution to transform America and that revolution -- Our Revolution -- continues. Election days come and go. But the struggle of the people to create a government which represents all of us and not just the 1 percent -- a government based on the principles of economic, social, racial and environmental justice -- that struggle continues. And I look forward to being part of that struggle with you.
Let me be as clear as I can be. This election is not about, and has never been about, Hillary Clinton, or Donald Trump, or Bernie Sanders or any of the other candidates who sought the presidency. This election is not about political gossip. It's not about polls. It's not about campaign strategy. It's not about fundraising. It's not about all the things the media spends so much time discussing.
This election is about -- and must be about -- the needs of the American people and the kind of future we create for our children and grandchildren.
This election is about ending the 40-year decline of our middle class the reality that 47 million men, women and children live in poverty. It is about understanding that if we do not transform our economy, our younger generation will likely have a lower standard of living then their parents.
This election is about ending the grotesque level of income and wealth inequality that we currently experience, the worst it has been since 1928. It is not moral, not acceptable and not sustainable that the top one-tenth of one percent now own almost as much wealth as the bottom 90 percent, or that the top 1 percent in recent years has earned 85 percent of all new income. That is unacceptable. That must change.
This election is about remembering where we were 7 1/2 years ago when President Obama came into office after eight years of Republican trickle-down economics.
The Republicans want us to forget that as a result of the greed, recklessness and illegal behavior on Wall Street, our economy was in the worst economic downturn since the Great Depression. Some 800,000 people a month were losing their jobs. We were running up a record-breaking deficit of $1.4 trillion and the world's financial system was on the verge of collapse.
We have come a long way in the last 7 1/2 years, and I thank President Obama and Vice President Biden for their leadership in pulling us out of that terrible recession.
Yes, we have made progress, but I think we can all agree that much, much more needs to be done.
This election is about which candidate understands the real problems facing this country and has offered real solutions -- not just bombast, fear-mongering, name-calling and divisiveness.
We need leadership in this country which will improve the lives of working families, the children, the elderly, the sick and the poor. We need leadership which brings our people together and makes us stronger -- not leadership which insults Latinos, Muslims, women, African-Americans and veterans -- and divides us up.
(Note: You can view every article as one long page if you sign up as an Advocate Member, or higher).