Reprinted from Palestine Chronicle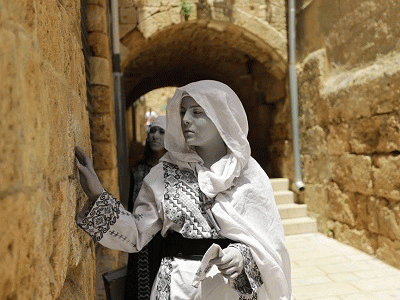 Artwork: 'Past Tense Continuous: Live Reenactment of the Nakba'
(
Image
by
by Dima Hourani. (Cairoscene, file)
)
Details
DMCA
>
When ISIS militias swept into Mosel, Iraq, in June 2014, Ibrahim Mahmoud plotted his flight, along with his whole family, which included 11 children. Once upon a time, Ibrahim was himself a child escaping another violent campaign carried out by equally angry militias.
In his lifetime, Ibrahim became a refugee twice, once when he was nine-years-old living in Haifa, Palestine, and yet again and more recently, in Mosel.
Just weeks before Israel declared its independence in 1948, Ibrahim lost his homeland, and fled Haifa, along with tens of thousands of Palestinian Muslims and Christians, after Israeli militias conquered the city in a military operation they called Bi'ur Hametz, or Passover Cleaning.
Over 750,000 Palestinians were expelled from or fled the horrors of the militias-instigated war, and those who are still alive along with their descendants, number over five million refugees.
Between 1948 and 2014, life was anything but kind to Ibrahim and his family. At first, they sold falafel, and his children left school to join the workforce at a young age. They all had cards that listed them as "Palestinian refugees," and to date know of no other identity.
When the Americans invaded Iraq in 2003, they granted their soldiers and the Shia-militias a free hand in that Arab country. The once relatively thriving and peaceful Palestinian community of refugees in Iraq was shattered. Now, according to the UN Refugee's Agency, no more than 3,000 Palestinian refugees are still living in Iraq, many of them in refugee camps.
Ibrahim has finally managed to escape Mosel, and now lives in a dirty and crowded refugee camp within Kurdish-controlled territories in the north. Considering his old age and faltering health, his story could possibly, and most likely end there, but certainly not that of his children and grandchildren.
Ibrahim's tragedy is not unique within the overall Middle East refugee crisis. Nonetheless, if seen within its painfully protracted historical context, Palestinian exile is almost unprecedented in its complexity and duration. Few other refugee populations had struggled with an exile which defined them, one generation after the other, as Palestinians have.
To offer a new perspective on this issue, about a year ago, I led a group of Palestinian researchers with the aim of offering a unique and modern study of Palestinian exile, wherein the 1948 Nakba (or Catastrophe) was examined within a larger context of space and time, not only in Palestine itself, but throughout the region, and the world as well. The stories borne out of this research will appear in a book that is tentatively entitled: Exiled.
Since the first refugee was expelled from his land in 1948, international aid workers, politicians, journalists, and eventually, historians, examined the Palestinian experience seemingly from all angles.
Exile was then first seen as a political crisis to which the only solution was the return of refugees, as instructed in United Nations General Assembly (UNGA) Resolution 194.
When that possibility grew dim, other resolutions followed, all expressing the political contexts of each era: in 1950, '74, '82, '83, etc. (An article by Ben Zakkai in Mondoweiss, entitled: "Notes on international law and the right of return" is most insightful in this regard.)
Regardless of the nature of the discussion pertaining to Palestinian refugees -- be it legal, political or moral -- the refugees themselves were rarely consulted, except as subjects of selective and sometimes dehumanizing poll questions, which draw their conclusions from refuges voting either "Yes" or "No," or even neither.
Many conclusions were drawn from various polls that were often commissioned to reach political conclusions, and each time such results are published, academic, media and political storms often ensue. For Israel, the key concern is for the Palestinians to simply disconnect from their historic homeland. In contrast, for refugee advocates the struggle has always been to demonstrate that the refugees' desire to return remains as strong today as it was nearly 68 years ago.
But between Israeli laws aimed at punishing Palestinians for commemorating their Nakba, and efforts to keep the Right of Return central to the debate, an actual disconnect happened between the likes of Ibrahim Mahmoud of Haifa/Mosel, along with millions like him and the rest of us. However, this disconnect was not in keeping with Israeli hopes; instead it was based on a very real, human perspective
(Note: You can view every article as one long page if you sign up as an Advocate Member, or higher).