Dear Secretary Clinton,

The State Department briefing of August 2 details your goals while in the Democratic Republic of Congo this week. So many Congolese will be happy and hopeful that you are visiting the hellish landscape of the Kivus.



- Advertisement -


From Angola, the Secretary will move on to the Democratic Republic of the Congo. In the Congo, she will have two stops. She will go to Kinshasa first and then will proceed the next day to Goma in the eastern region. She intends to meet with President Kabila and the Congolese foreign minister. During that stop, the Secretary wants to put a great deal of focus on the issue of sexual- and gender-based violence which is occurring in the eastern Congo.

As many of you know, the eastern Congo has been torn by civil strife, a great deal of conflict since 1994, 1995, largely as a result of the movement of ex-genocidaires from Rwanda into the eastern Congo. The Secretary is deeply concerned about the gender-based violence, which is occurring in the eastern Congo, will underscore America's commitment to try to end this gender-based violence, and will meet with some of the victims who have suffered from it.

We will also - the Secretary also intends to encourage and push the Congolese Government as well as MONUC, the UN peacekeeping force there, to take a much more aggressive stance against gender-based violence. The Secretary will also encourage the Congolese Government to continue its democratic progress, and will also encourage the government to take action against corruption and to improve its economic and fiscal management so that it can - its country's resources can be used for development.


This is great, that you are going there and all, but you know, Human Rights Watch and the independent press and Eve Ensler and all kinds of folks have been documenting the horrors of rape and euphemistic "gender based violence" for quite some time now. I know you will not have a lot of free time there, so perhaps you could skip one or two interviews and go to the Mugunga II Refugee Camp. This camp has been in existence since May 2007. When I was there in January of this year, I was told there are approximately 20,360 internally displaced persons in Mugunga II. You will find a small city with no infrastructure, electricity, sanitation or medical care. The population is comprised of roughly 7,000 children, many of whom were orphaned by the war. There is a child there in block 35 and here is the photo I took. I wonder if this child is alive. Could you please find the family and let us know?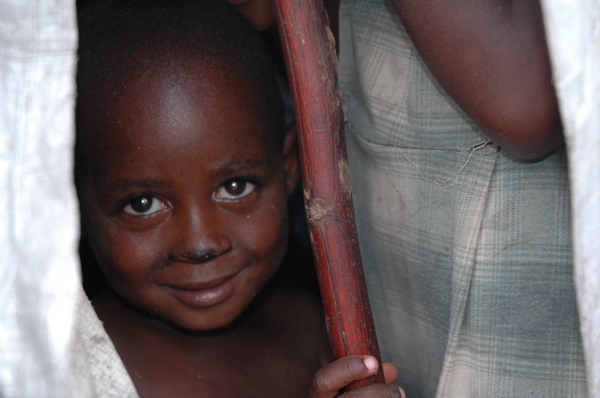 His house looks like this, but then they all look the same. You might have to show the photo around.




Or maybe someone from your advance team can find his mom.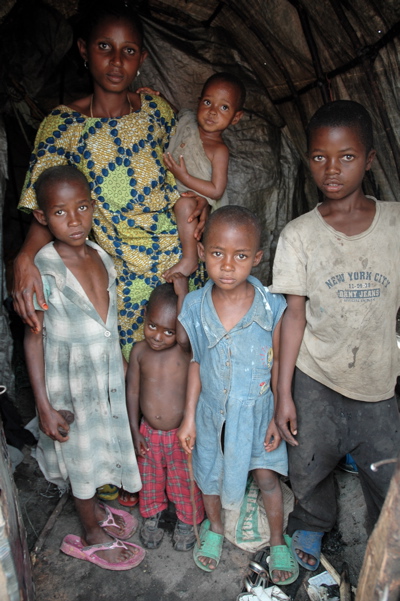 Perhaps I can save you some time and offer this partial testimony. Women, constant targets of sexual violence, are eager to step forward with their stories and offer witness. We recorded this at the camp. It is the same everywhere, really, and one story echoes 10,000 stories. How many times do we really need to listen to the stories before we do something about it? You are a smart tough woman. I wanted you to be president. Don't be snowed by Kabila and what he will tell you while you are in Kinshasa. It is more important what you will see in eastern Congo. You won't have to risk your neck and go too far from Goma to locate the sources of the violence.

Mugunga II camp is near three other sites of Mugunga III, Buhumba and Bulengo. These "cities" are the legacy of fighting in North Kivu Province that intensified at the end of 2006. I saw these kids along the road and they had just snared this raptor for dinner. Perhaps you might also try to find them and see how hunting has gone for them.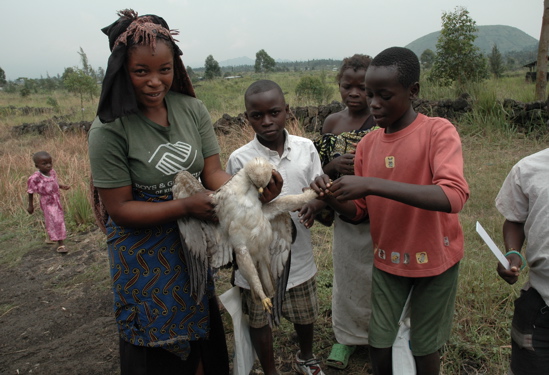 I really hope you will have the stamina not be managed by representatives of the United Nations under Alan Doss or become a victim of the Kabila government's frequent dog and pony shows for visiting American celebrities -- and make no mistake about it, you are considered a celebrity in Central Africa, especially after your husband apologized for our inattention during the Rwandan genocide. Up to one million were killed then, and we are going on figures of up to six million in DRC due to the war and murder and disease. Did you see this church when you were in Rwanda a few years ago?